What is a hospice?
Some people have a vision of hospices as quiet and gloomy places where the very ill go to spend their final days. This couldn't be further from the truth.
In reality, hospices are full of life and compassion. They are places people can go to for specialist care and all kinds of support, and where families and friends are always welcome. And it's not like being in a hospital.
Why do people go to a hospice?
When someone comes into the hospice for our support, we make sure they have the chance to enjoy a better quality of life, for as long as possible.
We look after the needs of family members and friends too, because if someone you care about has a terminal illness, it can make such a difference to have the right support for those difficult questions and concerns you might have.
It's also a place where everyone – from the housekeeping staff and volunteers to the nurses and medical team – always has a lovely smile on their face.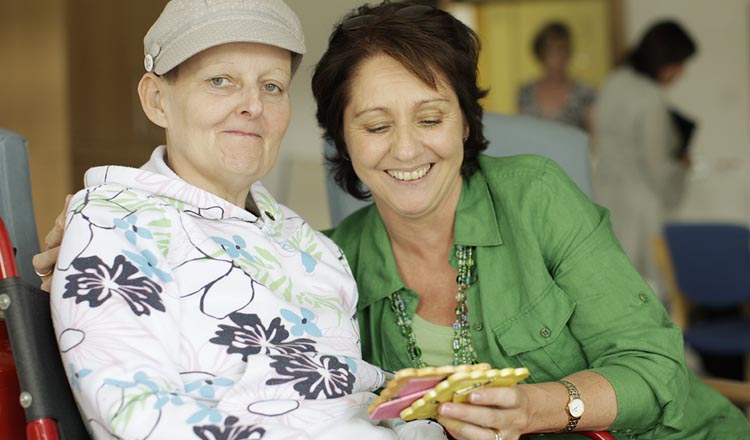 What are hospices like?
Hospices are designed to be pleasant places where people can spend quality time with their friends and families.
In our Newcastle hospice, we have lounges and play areas where people can spend time with their visitors. All our in-patient bedrooms have direct access into beautiful gardens. We even have a special family suite, complete with a kitchen and living area, so families can be together with their loved ones with the comforts and privacy of a home.
And unlike in a hospital, relatives can visit at any time and stay overnight if they wish to.
Who receives care in hospices?
Hospices offer specialist care and support for people living with any terminal illness – they aren't just places for people with terminal cancer. For example, around 20% of all patients we care for at the Newcastle hospice have other illnesses such as heart failure, motor neurone disease, respiratory disease or kidney failure.
People may be referred to a hospice at any point during their illness. So while some of them may come in for a few days or weeks for care towards the end of their lives, many others attend a hospice at much earlier stages of their illness for help and support with their symptoms so they, and their family members, can manage at home.
How long do people stay?
In our Newcastle hospice, around half of the people who stay here are discharged after spending an average of 17 days with us.
Many people go to a hospice just for the day for a range of outpatient and day services. These might involve relieving someone's symptoms, advising them on practical matters or looking after their emotional and spiritual wellbeing.
Who looks after them?
People who work at a hospice include doctors who are specialists in palliative care, nurses, physiotherapists, social workers, occupational therapists, counsellors and chaplains.
In our hospice, all the meals we serve are freshly prepared by our chefs, who talk to each patient to find out what they'd like to eat on that day.
Want to find out more?
A recent Facebook Live video sees Karen, one of our Occupational Therapists, showing viewers around the Marie Curie Hospice, Hampstead. Karen chats with staff and patients and explores the different rooms inside the hospice, including the gym!
The Hampstead hospice is one of the nine Marie Curie Hospices across the UK. Read more about how our hospices can help.