"It's not just looking after the patient but the whole family."
Mary Reilly has been a Marie Curie Nurse for 22 years and says that it's "a privilege to be involved in people's lives and to be there at the end". This March, thousands of people across the country will be getting behind the daffodil to help nurses like Mary support more families when they need it most.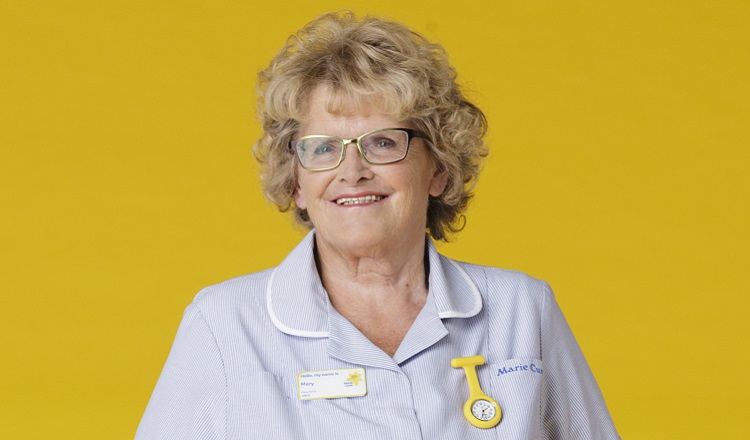 Light in the darkest HOURS
"Working for Marie Curie has honestly been the happiest time of my life. You meet so many fantastic people, trying to cope with so much. They really appreciate you and the help you can bring.
"We are with a patient for nine hours and I love giving them that time. The night can be a very frightening time, especially if you live on your own."
PERSONAL care and support
"I'm willing to do anything to help. I want to be useful. I washed the curtains while one man was asleep and in the morning, he had a big smile on his face and said 'Thank you Mary, I can see the sun'.
"I will give a wet shave to a gentleman if he needs it and asks. I think it does give people their dignity. They want to feel like themselves, who they really are.
"People want to talk to you. They will tell you what they want to happen after they die. Things they feel they can't discuss with others. It can be they don't want to upset their relatives."
Keeping families TOGETHER
"I cared for one lady who lived on her own and hadn't seen her daughter for a while because of a falling out. She had her phone number, but just couldn't call. So I gave the daughter a ring and she was with her mother when she died. It is important.
"I cared for a lady whose daughter was getting married. She wanted her mum to be there and part of it all. I was caring for the lady and they said to me 'When you come here you are classed as family.'
"I won't lie, I do have a little cry sometimes but I love my work. We try to provide the best care we can. I feel proud knowing we keep the patient comfortable and care for the family."

You can help nurses like Mary to care for people living with a terminal illness, and their families, by signing up to collect for the Great Daffodil Appeal this March.