Marie Curie welcomes the man with the 'nicest job in Britain'
by Luke Cameron
Charity volunteer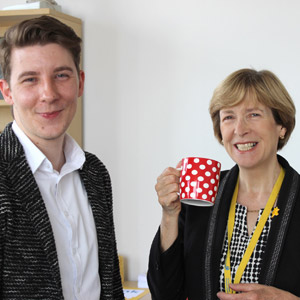 I have a very unusual job. I get paid by UA, an ethical energy broker, to travel the country and visit a different charity each week. I lend a hand wherever the charity wishes and, at the end of the week, I blog about my experience.
I have seen so many wonderful and eye-opening things. From neonatal care units with babies born at just 24 weeks to playing with puppies at the Guide Dogs for the Blind breeding centre. I really do have the 'Nicest Job in Britain'.
I spent this week, my 16
th
week of 46 charities, volunteering for Marie Curie, the UK's leading terminal illness charity.
I spent two days at the
Marie Curie Hospice, West Midlands
, the newest of all the Marie Curie hospices, to get a feel for the direct high-level care that the charity provide. Within minutes of walking through the door I had donned a nice pair of gardening gloves and was planting flowers outside the residents' bedrooms. The gardens are maintained by an incredible self-funding group of volunteers who work year round to ensure that each patient has a beautifully vibrant view outside their windows.
Apart from gardening, I also helped out with maintenance, patient tea runs, cooking in the kitchen and day-care services. I found it really inspiring. If I am honest, I was unsure of what a 'hospice' would feel like, in terms of the perception people have that they must be gloomy or sad places. But it was more like a hotel than a hospital and I was blown away.
Hospices are not sad places; they are happy places where sometimes sad things happen. Truth of the matter is, Marie Curie deals with death, which is a hard fact of life. But they do it with grace, dignity and compassion. That is more than apparent from the time I have spent with them. So if you want to really know where your money goes, it goes on care. Care services and hospices that make a person's end of life as good as it can be for them and their loved ones.
I have thoroughly enjoyed my time with Marie Curie and my time at the hospice really did open my mind. I will be taking away with me the understanding that hospices are not scary places. They provide a vital service in the best possible environment and, for that, they are amazing.
Read more about Luke's amazing job