New Year's Honours for Marie Curie volunteers
Several people with links to Marie Curie were awarded honours in the New Year's Honours list - including 85-year-old volunteer Basil Priest.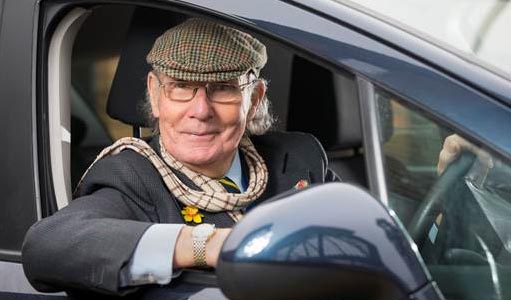 Basil (pictured above) was awarded the British Empire Medal after nearly 30 years volunteering at the Marie Curie Hospice, Cardiff and the Vale.
Basil volunteers at the hospice four days a week, supporting the hospice in various ways, including driving the hospice car to collect medicines and blood, maintenance and helping in the kitchen.
Also honoured in the list were:
Martyn Lewis, vice-president of Marie Curie, who received a knighthood
Dr Maurice Taylor, member of our Glasgow Hospice Development Board, who received a CBE
David Ereira, Marie Curie's vice-chairman and member of our Council of Trustees, who received an OBE
Gareth Williams, member of the Council of Trustees and chair of our Wales Advisory Board, who also received an OBE
Chief Executive Dr Jane Collins said: "I would like to congratulate Basil, David, Gareth, Maurice and Martyn, recipients of the New Year Honours who have played such a vital part in the work of Marie Curie. It is a great honour to be recognised in this way and we are incredibly lucky at Marie Curie to have the support of people who are so willing to give their time and skills whether that's in the boardroom, in our hospices or out in the community.
"This has been an extraordinary year for Marie Curie. We have been able to do more to support more people living with a terminal illness and their families in more areas across the UK. Our success has only been possible thanks to all of our dedicated volunteers including those honoured today."
See the full New Year's Honours list