Thank you to our amazing Marie Curie volunteers
by Debbie Hill Head of Volunteering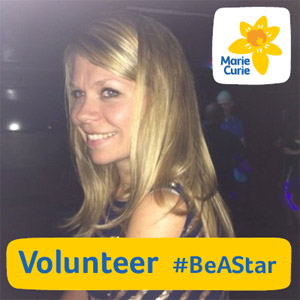 Here at Marie Curie we don't need an excuse to shout about the fabulous work that our amazing volunteers do. But during Volunteers' Week we like to shout that little bit louder!
And shout we have. In seven short but fantastically busy days, Marie Curie has crammed in a whole load of Volunteers' Week activities. Here's a short rundown of some of our favourites.


We ran a #BeAStar Twitter campaign talking about how much we value our volunteers, encouraging people to add the very special Volunteers' week twibbon and have a little fun with our volunteer roles Vine.


Our website was full of all the different ways you can support Marie Curie as a volunteer and, in particular, we were asking for your help to support our shops, fundraising groups and our ambitious Helper programme.


We sent a letter to the editors of regional papers across the UK thanking Marie Curie volunteers in their local areas. And every day you will have seen a different blog giving you an idea of the type of volunteering available at Marie Curie and the incredible people who support us.


Offline we ran events across Marie Curie. From tea parties and gold-themed events to seaside-themed afternoons, we came together to say thank you to our wonderful volunteers.


But even with all that activity, thank you doesn't seem enough. We have over 10,000 inspirational people who give their time to support our work. Whether it's shops, community fundraising, hospices, Helpers or much, much more, volunteers are at the core of Marie Curie and we quite simply could not do what we do without them. So thank you to each and every volunteer. Thank you from me, every single member of staff at Marie Curie and all the patients and families we support. Thank you for all that you do.