Wear a Unity Band for Marie Curie this World Cancer Day
This World Cancer Day, Marie Curie is working with nine other charities to unite everyone in a simple but powerful life-changing act – wearing a Unity Band®. By joining forces we will make a bigger impact in transforming the lives of millions who are affected by cancer.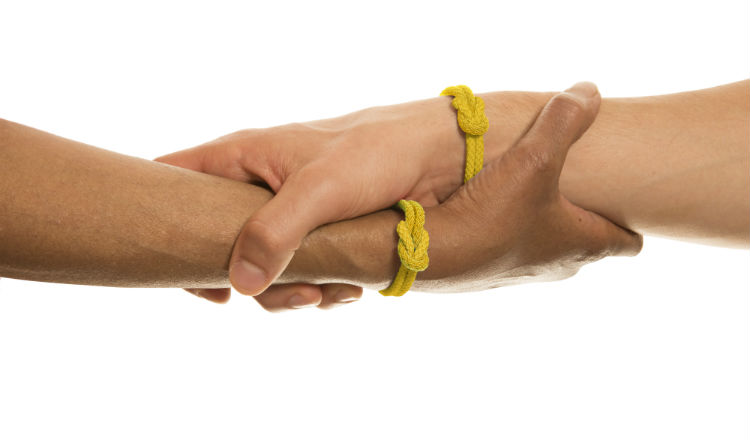 Supporting people living with cancer
Around two thirds of the people we care for have cancer. We offer expert care, guidance and support, as well as funding research into better care.
After Tony was diagnosed with cancer, he visited the Marie Curie Hospice, Belfast as a day patient, working with physiotherapist Kerry to help build his strength and allow him to pursue his passion – golf.
"When I started going to Kerry I just decided to take one day at a time," Tony remembers. "It was great because physio was something I could do to help myself rather than have something done to me. I felt as if I was in control."
Buy a Unity Band® at your local Marie Curie Shop
Wear your Unity Band® on 4 February, World Cancer Day, as a symbol of support for everyone affected by cancer.
The Unity Band represents strength in unity and is the icon of World Cancer Day.
Unity Bands are available from 19 January at Marie Curie Shops for a suggested donation of £2.
How to tie your Unity Band
Flip the band over so the daffodil on the metal clasp is facing down
Undo the metal clasp
Keep one loop in one hand and the other in the other - with the two metal clasps facing inwards
Thread the clasp of the loop in your left hand through the loop in your right hand, but don't pull it all the way through
Then thread the clasp of the loop in your right hand through the loop in your left
Pull by the two metal clasps and create a knot
Fasten around your wrist with the metal clasp.