I gave up my career to become my dad's carer
When Julie Zafari's dad was diagnosed with the lung condition chronic obstructive pulmonary disease (COPD), she chose to leave her job in retail to care for him. Julie shares how she adapted to being both her dad's daughter and carer, and what that time meant to them.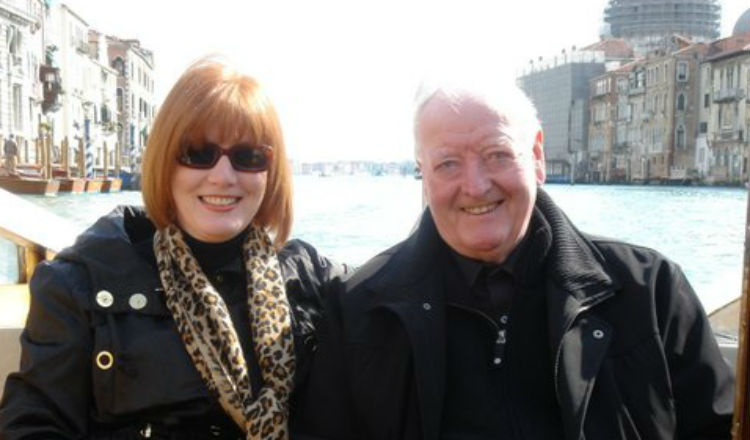 "I was very close to my mum and dad – we were the three musketeers. We went on lots of holidays together. In 2000, Mum and Dad even travelled to Las Vegas with me for my wedding. It was so special to have them there to celebrate with us.
"My dad, Geoffrey, was diagnosed with end stage COPD in 2012 when he was 84 years old. After 30 years working in retail, I made the decision to give my career a break and take time out to look after him. I had no medical training, nor at the time did I know much about Dad's condition or how it would progress. I needed to learn fast."
Adjusting to life with COPD
"Before the diagnosis, Dad was so active and I think he struggled not being able to get out as often seeing his friends and doing social activities. I went along to visit the Marie Curie Hospice, Liverpool with him, and he started going as a day patient.
"The hospice helped Dad deal with the changes in his condition and gave him coping strategies. He really enjoyed going, and loved all the activities – from arts and crafts to sing-song on a Friday afternoon."
The hospice helped me get the support I needed
"It can be physically and mentally punishing looking after your loved one. There is so much information out there that you can get bogged down with it all. I struggled with my role of daughter and carer at first, but with the help and support of the team at Marie Curie I was able to put dad at the heart of all our decisions.
"I reminded myself this was about his end of life. So I talked when I needed to talk, and got practical advice when I needed it. I got access to equipment that could support Dad at home with the help of the physio team at the hospice. They had my back. I could feel that support and, when I needed it most, they came up trumps."
Bringing Dad home
"Eventually, Dad needed permanent oxygen. He spent some time at the hospice as an in-patient and although he was near the end of his time with us, we were able with the full backing and support of the wider Marie Curie network to bring him home to spend his final few weeks with us. We had a Marie Curie Nurse come in at night so Mum and I could get our sleep ready for the days ahead.
"I will be eternally grateful for the comfort, advice, friendship and fun that allowed me and Mum to make lasting memories with Dad. With Marie Curie, we knew we were never alone. I'm now an ambassador and help to promote the services they provide.
"At the end, Dad was able to pass peacefully with dignity at home. And I was able to kiss him goodnight one last time."
If you're caring for a loved one with a terminal illness, there's information and support to help you cope. You can also call our Support Line free on 0800 090 2309 if you'd like to talk to someone about your situation.