"Being a Helper volunteer is just like being a friend."
Student Faye Morrison became a Helper volunteer in Newcastle after seeing the amazing care her grandmother received. Here's her story.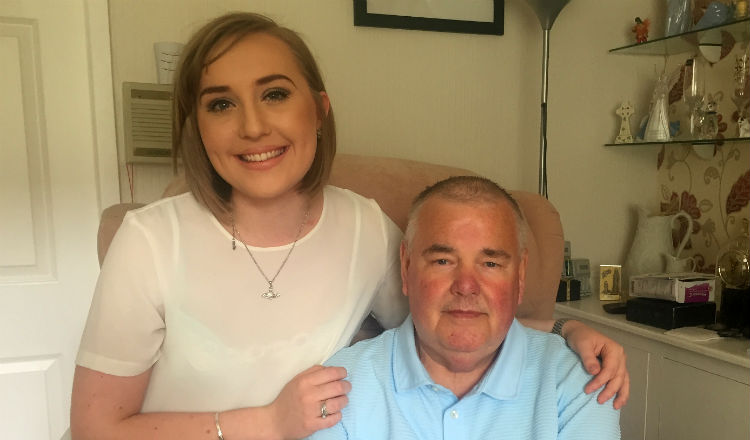 "My nana was cared for in the Marie Curie Hospice, Newcastle, where I eventually ended up having all my training as a Helper volunteer. We lost her to pancreatic cancer about a year and a half ago. The amazing work of the nurses and doctors at the hospice really spurred me on to want to do something to help.
"Obviously I wasn't qualified for that kind of work but I asked one of the nurses about it, and they put me in touch with the Helper service. I just applied and it went from there really."
Building lasting relationships
"The first time I met Don was in December last year. We had a lovely chat in his home followed by a trip to the fish quay. Due to his condition, Don's feet tend to swell up quite a bit, so he's actually lost the ability to drive. That's why he wanted a Helper volunteer. I was able to take him to places like the Metro Centre in Newcastle – things that he couldn't do on his own anymore.
"He had to specify what sort of help he wanted, because it varies – some people just want a telephone conversation once a week; some may want you to go over and play a game of dominos with them, some of them want to go out.
"It's kind of like having a friend – not like having a carer. I feel like I'm an open ear that's not his wife, immediate family or mates. There are things Don might say to me, which if he said to a family member, it might upset them. I'm just someone on the outside for Don to talk to – we have some great chats and he gives me lots of advice!"
Looking at things differently
"Being a Helper volunteer puts your life into perspective really. It completely takes all your worries away and gives me a bit of satisfaction knowing that I've made a difference. Like when it came to Christmas. I went to the fish quay with Don and had fish and chips and at that point I didn't really think I'd made that much of a change to his life. But then he rang Heather, the Tyne & Wear Helper manager, and told her that I'd made their Christmas!
"From then on, that's made me so determined to carry on doing it. I didn't think for one minute I could help someone and really benefit them.
"It also brings you back down to earth and makes you think about what's important. Like your friends, family, loved ones. With university and stuff, I think I'm quite a stress-head – I run around and I'm stressed about deadlines most of the time. But having this volunteer role grounds you a bit and you think, 'calm down, you're alright'."
A rewarding role to fill
"To anyone who's thinking of becoming a Helper volunteer, I would say, even if you're apprehensive, just go along to an open day and give it a chance.
"It's a massively needed service and there's not enough of us. You don't have to have had training because you're given all of that, so anyone can do it.
"It's just like making a new friend!"
Inspired by Faye's story? Find out more about how you could become a volunteer for Marie Curie.