International Nurses Day live blog
On International Nurses Day 2016 (12 May), we're following several of our nurses throughout their shifts to showcase some of the amazing work they do. Follow along here and on Twitter
NB: Our latest updates appear first. You'll need to refresh the page to see new updates as they appear.
1.36pm
Thanks very much for following our nurses with us this morning. We're switching over to a new liveblog for this afternoon's updates.
See you there!
And if you'd like to support our nurses' work, do consider making a donation. Our nurses can't do what they do without you.
1.04pm
Further to our food-related update at 12.19pm:
12.41pm
In the West Midlands, Tracey Frost, one of our community clinical nurse specialists, is out visiting patients at their homes. She's just popped into the patient's GP en route:
Tracey says: "We work with some brilliant GP practices and we're all accessible to each other. It means the patients get faster, better treatment. Patients know that if they talk to us then things are going to happen for them."
12.19pm
One of the most important things our nurses do is help make sure people's quality of life is good and they can still do some of the things they want to do, even if they're very ill.
Ian came into the Liverpool hospice today to visit his dad, who's been in the hospice for a week:
And it's not just making sure patients can get the food they want. Our nurses have helped their patients get out and about when it seemed impossible, so they could go to family events, weddings and even girlie weekends away.
11.56am
Ward Sister Sue is preparing a bed for a newly admitted patient at the Liverpool hospice, making sure they've got all they need to be comfortable.
Sue says the hardest part of her job is talking to families at the end of a loved one's life. She has to make sure family members are looking after themselves as well; that can be just suggesting they go out for a cup of tea, but it's about talking to them and getting in tune with how they're feeling. She draws on her own experiences of bereavement to know what will help.
Her advice to anyone considering working in palliative care is this: "Think long and hard. It's either for you or it's not. There is emotional upheaval, but seeing families so relieved that their loved one is comfortable makes it one of the most rewarding areas you can work in."
Find out more about what our nurses do.
11.35am
Just time for our Liverpool hospice nurses to catch a breath with a cup of tea and a snack after a hectic morning.
11.24am
After leaving Solihull Hospital (see 9.39am), Nurse Judith Odwin is out and about visiting patients at home.
Judith's just been visiting a lady called Ruth at home, to make sure she and her family are doing okay. Ruth told her: "Other than this illness, I'm disgustingly healthy!"
Now it's off to see another patient. Judith says: "We work in a lot of different areas. When I first moved up here, my sat nav became my best friend. Some of the areas are affluent and leafy, some poorer. Patients often have different needs and our challenge is to know what each patient's story is. It's not just about their diagnosis."
10.58am
Sarah Reynolds, our overnight nurse who we caught up with first thing this morning (see 7.45am) is probably fast asleep now after her shift, but before she went to bed, she shared her story of why she became a Marie Curie Nurse:
"My sister, Lorna, was only 56 when she died six years ago. She died of pneumonia, but she was being treated for diverticulitis for a year. She was very young and I was very upset about the way she was treated with little respect in hospital.
"I thought if someone like that can die and be treated like that at the age of 56, what's it like for people who are older and are more seriously ill? That's why I decided to join Marie Curie."
10.45am
We're focussing on just a few areas today, but Marie Curie Nurses are hard at work all over the country. Here's a quick update from one of our Welsh hospices:
10.36am
Meet Rhian and Claire, two of the doctors at our Liverpool hospice. On International Nurses Day, we asked them to reflect on the care our nurses offer.
Claire says: The nurses are brilliant. You constantly hear from families that they look after their loved ones the way they would at home."
10.04am
Families can visit their loved ones in our hospices at any time, unlike a hospital.
The lady on the left here is Sandra, pictured with her friend Pat - Sandra's husband's been in our Liverpool hospice for almost a month. Recently, she and her three daughters have been coming in to be with her husband for 12 hours a day in shifts.
Sandra says: "It's like a family here. The nurses are there at the drop of a hat. They ask how we are and care for the whole family. They're amazing. The care and consideration is brilliant. They keep everything fun and lighthearted. They make us smile and we make them smile.
"Some places you can sense the lack of motivation, then you come here and it's completely different. They're here because they want to be here."
Sandra's whole family have been great supporters of Marie Curie, raising thousands for the charity over the years.
But she says: "Until you come in here, you don't realise what goes on and where those funds go. Everyone pulls together in here and no moment stands out because they've made every moment fantastic."
9.46am
Lots of options being discussed with our nurse Judith to help get patients at Solihull Hospital home (see 9.39am). They include home visits from Marie Curie Nurses at night or during the day, admissions to the hospice or support at home from occupational therapists.
9.39am
Quick update from Judith at Solihull Hospital (see 8.40am). She's discussing various patients with the hospital staff. One in particular is very poorly with complex needs. The team's decided to refer them to the Marie Curie Hospice, West Midlands, where she'll be more comfortable.
9.21am
Time for a couple of stats:
There are currently 2,263 active Marie Curie Nurses around the UK (including registered nurses and healthcare assistants).
Around 500 of them will be working a shift at some point today.
On average, last year our nurses delivered 3,333 hours of care a day to people living with a terminal illness and their families.
9.07am
At our Liverpool hospice, nurse co-ordinator Bev Bower is briefing the doctor on the medical and emotional condition of the 11 patients currently on the ward.
Bev's been with Marie Curie for two years. After she joined the hospice, her mum was nursed there after being diagnosed with a brain tumour. She says it gave her a new perspective on her work and the best ways to support people.
Bev says her most special memories of working in the hospice involve singing and dancing with patients - there can be a very happy feeling in the hospice, even though it's a difficult time for a lot of families.
8.50am
Sue Stirzaker, the Ward Sister at our Liverpool hospice, has been going round to catch up with patients first thing as they eat breakfast.
Sue's worked at the hospice since 1989. She says: "I wouldn't change my job for the world. It's a privilege to be there at the end of someone's life - just as it is at the start. And it's a privilege that families and patients want you there. They may only know you for a couple of days or a few weeks, yet they still want you there at a private family time."
8.40am
In the West Midlands, Marie Curie Nurse Judith Odwin has headed out to Solihull Hospital to meet up with the palliative care team there. They'll be discussing how to make sure patients who are ready to be discharged from hospital can get home with the right care and support in place.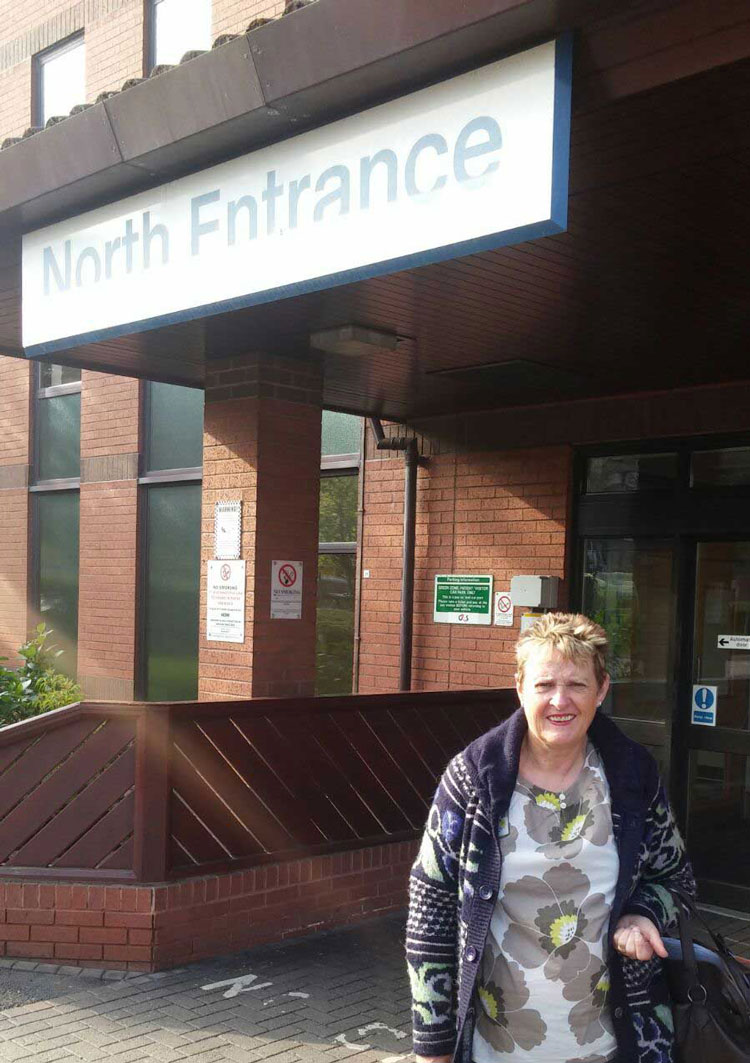 8.25am
One of the teams we're following today is our community clinical nurse specialists in the West Midlands. They're based in our hospice, but visit patients in their own homes and other locations, like care homes, to assess their symptoms and provide emotional support. They also help co-ordinate services and medication for patients with their GP.
The team have clocked in for the morning and Tracey Frost (below) is checking messages received overnight to see who might need a visit from the nurses today.
8.12am
Sarah Reynolds (see 7.45am) has made it home and is tucked up in bed! We'll catch up with Sarah later - she's back out on shift tonight.
8am
It's not all been action overnight, though. Tracey Porter and her colleague Sam were on call in Scotland but it was a quiet night and they weren't sent out.
Instead, they were taking calls from people and offering advice - for example someone called in the early hours of the morning concerned about their father having breathing difficulties. Fortunately, they were able to settle the patient.
Tracey says: "If it's quiet, it means the families are all comfortable, so that's a good thing!"
7.55am
Registered Nurse Janet Bond, at the Marie Curie Hospice, Liverpool, is going off shift.
"I'm heading home now. It was a typical night shift. We were kept busy, which I like."
7.45am
While most of us are getting up or on our way to work, many of our nurses are just coming off shift after working through the night.
Sarah Reynolds, one of our nurses in Wales, spent last night looking after a patient in their home.
She said: "I've had one of those eventful nights. It has been non-stop. The patient was not very well. The family are up now - sometimes you feel awful that you have to leave in the morning, but the District Nurses are on their way over."
"I'll go home now, get my mum her breakfast and sort her tablets out, then I'll go straight to bed. I'll be in bed before 8am, because I can't sleep much after midday!"
7am
Welcome to International Nurses Day! We're following some of our nurses in different roles around the UK, including nurses who care for people in their homes, nurses at our hospices and nurses with other roles in the community.