Occupational therapists make a difference when it matters most
As part of Occupational Therapy Week 2015 (2-8 November), we are putting the spotlight on Occupational Therapists Becky Lewis and Tracey Polglase, who told us about their roles based at the Marie Curie Hospice, Cardiff and the Vale.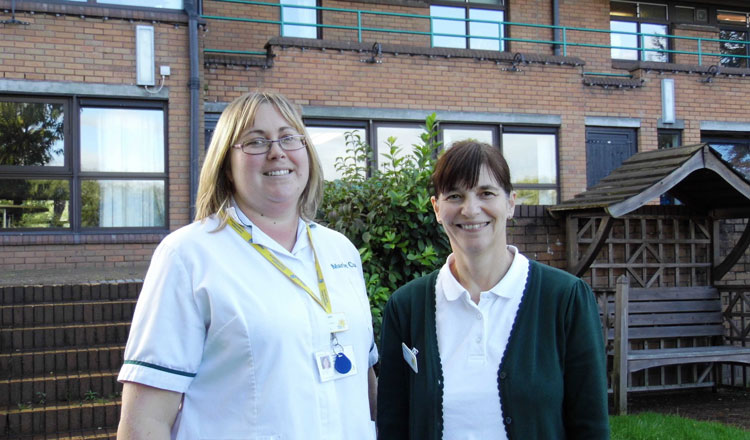 What kind of support do you provide for patients?
Essentially, what we do on a daily basis is helping people to be in their preferred place of care and be as independent as possible. We support them with aids or strategies if they can't be as independent as they want or need to be.
As well as supporting people in their homes, we also see groups in the Day Therapy Unit at the Marie Curie Hospice, Cardiff and the Vale. As it's coming up to the season of goodwill, we thought it would be good for them to make something for a family member or a friend.
We use creative activities at times because it allows the group members to have self-control at a time when they are losing independence and control over their lives. At a time when there are things they cannot do – this is something they can do. Psychologically and emotionally that is hugely important.
We also do a lot of work with patients who will deteriorate over the weeks and months ahead; we try and work with them to help them prepare. This could be installing equipment or using coping strategies, but it all has to be done quite sensitively.
What kind of difference are you making to the lives of patients?
We have supported a gentleman recently who wished to go home so that he can spend some quality time with his family, and for us that's the most rewarding part of the job. We arranged for him to have equipment at home which means that he can be a part of the family. But the set-up also means that he can be separate when he needs some quiet time if he's having difficulty with nausea or pain. We've equipped his bedroom so that he can spend a long time there if he needs to.
What are the challenges you face in this role?
You only have one chance to get this right. You have to be focussed that what you're doing is right, because if the person goes home and everything goes wrong they can end up coming back to the hospice or going into hospital and spending time, and dying, somewhere where they don't want to be. Nobody wants that.
What do you enjoy most about your job?
We feel we make a difference at a time when it matters the most. Seeing someone back in their home and smiling and happy where they are, that makes it all worthwhile.