Strengthening and integrating palliative care in Kenya, Rwanda, Uganda and Zambia
In this guest blog, Dr Liz Grant, Assistant Principal and Director of the Global Health Academy at the University of Edinburgh, discusses some of the outcomes of a three- year project she has been leading to strengthen palliative care integration in Africa.
In April 2012, in response to a call to contribute to Goal 6 of the Millennium Development Goals, the UK Department for International Development approved a three-year project through the Tropical Health Education Trust Health Multi-Country Partnership Scheme to support a programme for strengthening palliative care integration into national health systems in four African countries: Kenya, Rwanda, Uganda and Zambia.
How it worked
Twelve hospitals, three in each country, each serving different populations and delivering at different service levels (university teaching hospitals, provincial hospitals, and district hospitals) be came the hubs of the programme. Each hospital took a multi-layered approach based on four key pillars:
Advocacy: Achieving recognition of palliative care in national, district and hospital health plans.
Service delivery: Building palliative care approaches and services, including appropriate use of pain relief, which were integrated into wards, staff roles and service systems.
Staff capacity: Training sufficient generalists and specialist staff to provide palliative care within each hospital network to establish a critical mass.
Partnership: Strengthening the linkages between hospitals, and building an active international mentorship programmes with 12 mentor hubs in UK and in the hospitals.
What has been achieved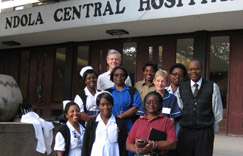 Over the course of the programme we have seen an increase in knowledge, skills and acceptability of palliative care among 935 health workers, from senior policy and management to community practitioner.
Forty-one UK mentors (generated through the University of Edinburgh's extensive palliative care mentoring UK network) spent a total of 570 days working with local teams in each hospital embedding training into practice. They worked with colleagues to:
support the clinical teams, identify bottle necks in the system
apply knowledge
strengthen their confidence to prescribe medicine such as morphine
process in real time patient identification, referral and follow-up systems
The results have been very encouraging. Thirty-nine staff received specialist training (diplomas and degrees), six clinical placement sites were established, 123 staff became "trainers of trainers", an additional 519 staff trained through hospital sensitisations and pharmacy morphine workshops and 5,800 Community Members were introduced to the concepts of palliative care.
This increase in training and skills meant that staff in each hospital were able to:
put into place early identification systems in hospitals and communities for recognising those patients who would benefit from palliative care
develop and document referral pathways for patients
make country-specific the Care Protocols developed for the programme by the Makerere Palliative Care Unit
build planning templates for health service management to record and keep patient documentation to draw together all palliative care work
Morphine, not available in half the hospitals when the programme started, is now available in each one. Pharmacies began ordering in adequate stocks of morphine and staff began prescribing morphine confidently to effectively manage pain. Telling and repeated comments from all hospitals were made by ward leads saying their wards, though just as full as before, were quieter, with people no longer screaming in pain.
Shared ownership
The programme was built on shared ownership, a recognition that all development is about strengthening what is already available. The programme united multiple community responses to palliative care, and built on community capital through a public engagement approach with local champions and opinion makers.
A final report will be published early next year, and Dr Grant and other members of the programme team will be sharing insights from the programme on our blog over the next few months.