An answer to the question of what is a good death?
by Caroline Weston
Policy & Public Affairs Manager, England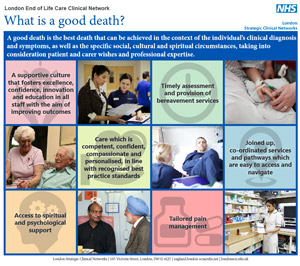 We talk frequently about the importance of a 'good death' in palliative care, but often it is not clear what that means. It is very easy to come up with examples of what we see as a bad death.
In an attempt to answer this, the
London End of Life Clinical Network
has worked with health and social care organisations, bereaved carers and voluntary sector organisations to try to identify what makes a good death, which they have defined as:
"A good death is the best death that can be achieved in the context of the individual's clinical diagnosis and symptoms, as well as the specific social, cultural and spiritual circumstances, taking into consideration patient and carer wishes and professional expertise."
In order to achieve a good death, they state that there must be
the following attributes to any service supporting someone at the end of life
:


Access to psychological and spiritual support


Tailored pain management


Timely assessment and provision of bereavement services


Care which is competent, confident, compassionate and personalised


Joined-up, co-ordinated services and pathways which are easy to access and navigate


A supportive culture that fosters excellence, confidence, innovation and education in all staff


There are concerns that the quality of end of life care in London is less than the national average and by defining a good death, a bar has been set for end of life care in London, with the aim that more people will be able to experience a better quality of care.
A lack of access
At Marie Curie, we know that many people do not have access to many of these attributes and as a result, do not experience a 'good death'.  Yesterday's publication of the report from the
Parliamentary and Health Service Ombudsman into complaints about end of life care in England
highlights areas where people feel their loved ones were let down at this time.  It is unsurprising that several of the main areas of concern – particularly poor care planning and poor symptom control – directly correlate with areas raised by the London End of Life Clinical Network as essential for a good death.
The Ombudsman service notes that complaints about end of life care are "sadly, a recurring and consistent theme" which suggests that many people are being denied the opportunity to experience a good death.  This not only affects the individuals who did not get the care they needed as they were dying, but also has a long-lasting impact on their loved ones afterwards.
We know that despite the difficulties for people and their families living with a terminal illness, it is possible to have a good death. It requires commitment from different groups working together to provide the kind of services as described above. It also doesn't have to be expensive – we know that when people with a terminal illness get the care they need where they want to receive it, it can actually save the NHS money.  More importantly than that, it means that they and their families have a better experience at what is an extremely difficult time.
This is why we want to see more people living with a terminal illness experience the care and support they need.  As well as striving to extend our services and reach more people,
we're also campaigning for change
to ensure that more people have a 'good death' so that their loved ones feel supported, not let down by the system.