Nursing services
Where do our nursing services operate?
We are currently commissioned to run nursing services across the vast majority of the UK. We mainly provide our services in people's own homes, but we also offer support in hospitals and residential care homes. Find out how to make a referral to a nursing service in your area.
What support do Marie Curie Nurses provide?
All our services are delivered by Marie Curie Nurses and senior healthcare assistants who have specific training in end of life care. Our staff make sure the terminally ill person is comfortable, and also offer advice, support and brief respite to loved ones.
Type of Marie Curie nursing services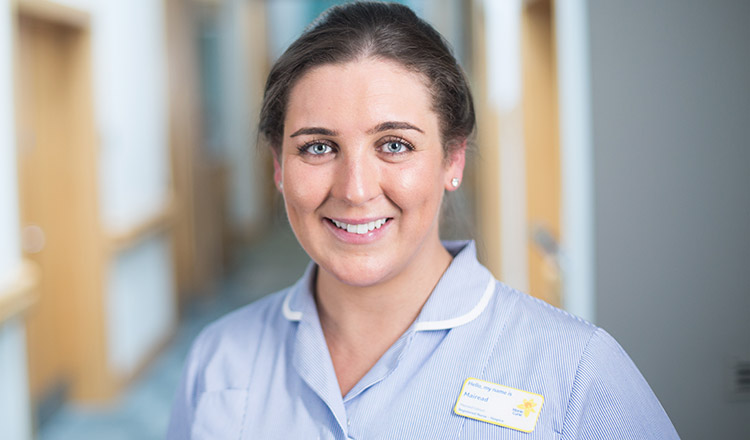 Planned nursing services
Our planned nursing services offer overnight care (typically 10pm to 7am) and shorter periods of care during the day, seven days a week. Requests for care can be made up to two weeks in advance, and sometimes up to four weeks in advance.
All care is provided by registered nurses and by senior healthcare assistants with specific training in end of life care.
The exact services offered depend on local need. But the vast majority of the UK has some aspect of our planned service in place.
Rapid response services
Our rapid response service helps prevent unnecessary hospital admission, allowing terminally ill patients to spend their final weeks at home.
Our registered nurses and senior healthcare assistants can provide care at short notice. This includes care of the patient at home, and over-the-phone advice for families and carers.
Rapid response services are typically available overnight and at weekends.
Hospital discharge services
We can help ease pressure on hospital beds – and help meet someone's wish to be at home by offering supported discharge.
Supported discharge is when a Marie Curie case manager helps speedily arrange a package of health and social care so the patient can safely return home.
Our health and personal care assistants can also provide support in a patient's home for the first few days after discharge.
Tailored nursing services
We are also commissioned to provide services even more directly tailored to the needs of local health economies and the people who live within them. Find out more about how we work in partnership with the NHS and other organisations.
We're always keen to speak to local commissioners about how we could develop services to meet local need. Don't hesitate to contact the Marie Curie Business Manager in your area to discuss further.
Case co-ordination
We provide a case co-ordination service for EOLC patients. Marie Curie Senior Nurses assess and co-ordinate the care required, based on each patient's clinical needs – even when those needs are changing rapidly.
We can provide care alone or work with other contracted providers as a blended team, under our management.
This approach makes best use of available resources, our own and other providers', helps to lift the burden off District Nurses and GPs, and reduce unplanned admissions.
CHC Fast Track
We offer both clinical care and case co-ordination services for patients eligible for CHC Fast Track.
Whether we're delivering a prescribed care package, planning patient care and/or co-ordinating their care, we put Marie Curie Senior Nurses in place to oversee and advise on clinical needs.