Five pieces of advice I'd give my younger self
Louise Thomas is a Marie Curie Nurse and rally car driver from the Isle of Mull. For International Women's Day, she's sharing the five things she'd want her younger self to know. Above all, she says, be bold.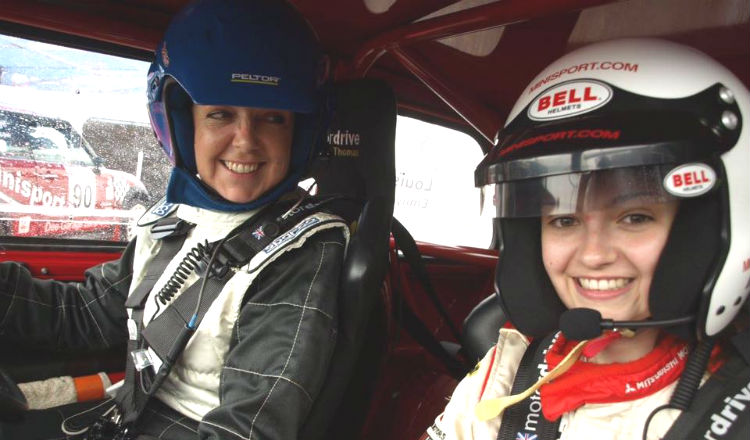 Make time to do the things you love.
I'd start by telling myself not to be afraid to take on a challenge – because you don't know what doors it could open for you. When I was little, I loved watching my dad drive in the rally. I wanted to take part myself but something always kept me back. One day, one of Dad's co-drivers, who was female, asked me to be her co-driver. I was happy to give it a go and getting behind the wheel was so exhilarating. After that, I was dad's co-driver one year, and then took the leap and competed in my first Mull Rally driving Dad's Mini.
Listen to Mum and learn from her.
I could talk to my mum about anything. She was the kindest, most caring person and her teachings helped make me a kinder and more caring person too. Mum was my best friend. I've grown up caring for people, and so did she. When I was 17, I started working with her at the same nursing home where she worked. She was such an inspiration – she always had a smile on her face and whistled through the corridors. She was my role model.
You go through bad times but there are always others that are going through worse.
When Mum told me she had breast cancer, I felt like my whole world went from underneath me. She was so strong and positive through her treatment. But the cancer came back and she passed away four days after being admitted to hospital. She was only 55. I experienced first-hand just how crucial it was to have the right support during those precious final days with a loved one. A few years later, I saw an advert for a job to be a Marie Curie Nurse. I immediately recognised the daffodil – I knew that the charity cared for people with terminal illnesses. I applied and was thrilled when I got the job. Helping others makes me feel better. Knowing you can make a difference in people's lives in their final days is the best kind of job satisfaction.
Don't be intimidated by anything or anyone. You are stronger than you think!
Rally-driving can be dangerous. Half the drivers at the Mull Rally are forced to exit early due to mechanical breakdowns or accidents. But after my first try, I just loved the adrenaline rush. I competed again in the Mull Rally the year that Mum died, and even though I didn't complete the track, I knew she would have been proud of me for trying again. Since then, I've been driving my Mini with the Marie Curie logo on it, in aid of the charity. I've combined my love of rallying with wanting to raise awareness for the services Marie Curie provides.
Never give up hope and believe in yourself.
These days, I drive with Emily. She's my co-driver and she's 16 years old. When we met, we instantly got on like a house on fire. Last year, we completed our first Mull Rally together. It's a really demanding track but we got to the end and won best-presented car. I know Mum would have been proud. All-female rally teams are unusual in the sport – we were the only one out of 150 teams – but we're proud to be representing women ralliers. We love giving the boys a run for their money. We don't ask for special treatment – we just get on with it!
I've always tried to live by the motto 'care for today, hope for tomorrow'. Above everything else, the advice I'd give to my younger self is to never let anything stop you from trying a new sport or taking a leap in a career change – be bold and brave!