"No need for a llama. The alpacas are here!"
It was the summer fete at Marie Curie Hospice, Edinburgh on 1 July. Cue a much-anticipated visit from our woolly camelid friends – the alpacas! Hospice Manager Hilary Ford explains the difference they make to patients and families.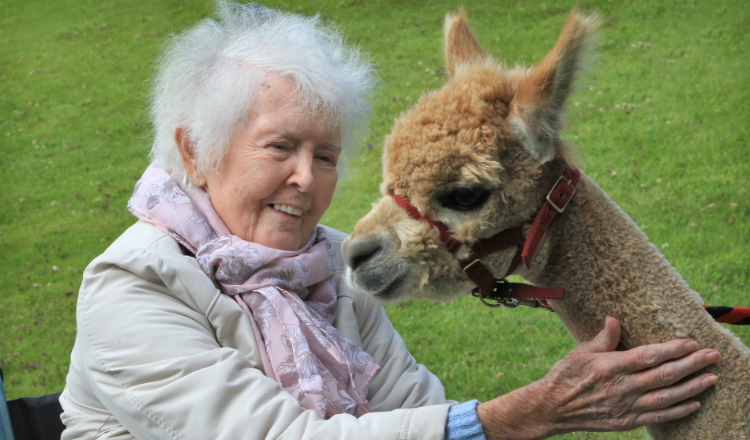 People love the alpacas
"They're a great draw for people. A public event like the summer fete, advertised with the help of the alpacas, is a way to encourage more people to come and see the hospice. That helps them understand what we do – that it's not a scary place.
The kids love it too. They can lead them around the garden, patients can pet them. They've become a kind of mascot for the hospice!
Animals give patients a different focus
"The alpaca visits are a really nice way to give patients and families something different to focus on – something really positive. It brings a different atmosphere to the hospice. Patients look forward to seeing them again.
It's something different, a really valuable additional experience that we can provide. In-patients can come out and meet them and give them a stroke if they're well enough.
It's part of a person-centred approach
"Bringing alpacas in is part of a broader person-centred approach. It helps give people enjoyment and an opportunity to talk about something light-hearted. Being able to stroke the animals is a really therapeutic thing in itself. They're such beautiful, gentle creatures!"