The costs of avoiding palliative care
While Marie Curie aims to make people's end of life experience painless and peaceful, recently published research shows that non-beneficial – and often invasive – treatments are widespread in other healthcare settings.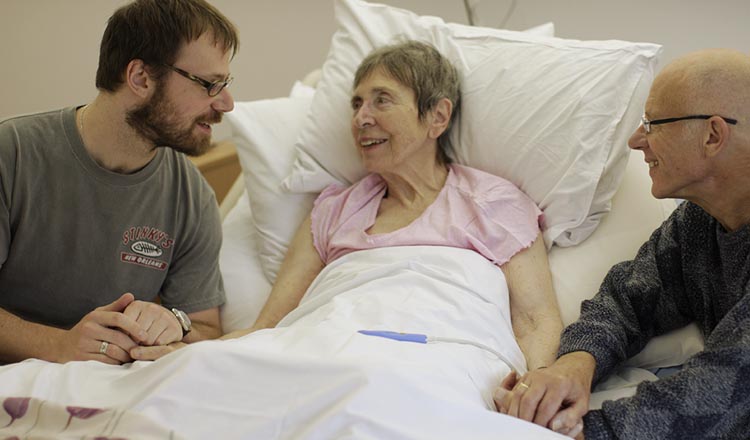 Let down at the end
In December 2005, Helen Findlay's dad James died in hospital of motor neurone disease and she has been an advocate for improved end of life care ever since. Here she talks about her dad's hospital experience in those final days:
"Instead of receiving palliative care, he was treated almost as though he was an acute patient. The suctioning was needed because of bad mouth care and the inability of hospital staff to provide foodstuffs that my dad could actually swallow. They also kept sticking a needle in his arm to take blood, even on his last day.
"My father never had assistance from non-invasive ventilation and I've since learned that it is precisely for enabling a person with MND to sleep and to relieve fatigue. So it would have made his final days so much better and easier and enabled us to have communicated with him for longer."
Our response to recent findings
According to a report released by the University of New South Wales , which analysed data from 1.2 million patients worldwide, more than one third of elderly patients who are dying receive "invasive and potentially harmful" treatments in their last weeks of life.
We need to get past the idea that providing palliative care is giving up on a patient. Early access to palliative care will greatly improve quality of life for both patients and their families and also gives people a chance to have honest conversations about treatment options, and what to expect as their condition progresses. This makes harmful interventions at the end of someone's life less likely and helps families deal with their impending bereavement.
Research in the USA showed that palliative care can lengthen survival by reducing the perceived need for chemotherapy when patients are already very ill.
Television and film is often guilty of depicting medicine as a heroic battle rather than something that's facilitating a natural lifespan. This damaging portrayal perpetuates the unrealistic expectations about what doctors can do for patients, especially those with terminal illnesses who might be approaching the end of their lives.
If you or someone you care for is living with terminal illness, you might benefit from our information about advance care planning.