Five questions people ask at the end of life
To mark Health Information Week, we asked Claire, Marie Curie Support Line Officer, to talk us through some of the most common questions people ask her.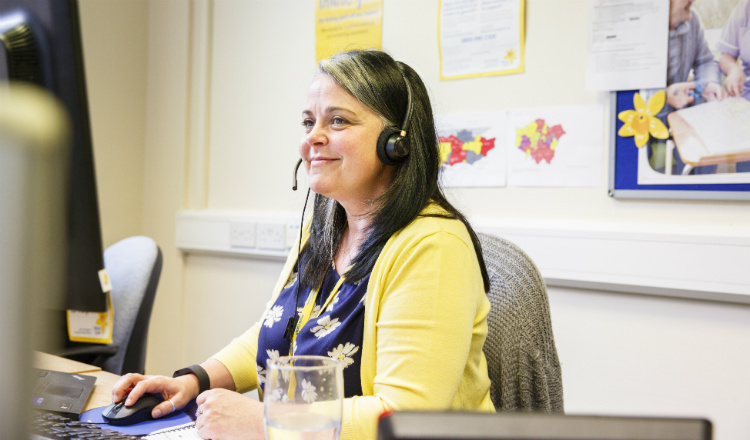 What care is available in my community and how can I get it?
"People who have just received a terminal diagnosis often want to know how to get care and support from a Marie Curie Nurse.
We have to be really sensitive. But we also need to find out whether the caller has been given a prognosis. That's because Marie Curie Nurses provide end of life care. We suggest that they speak to their District Nurse about when will be an appropriate time to be referred to our service.
We also explain that Marie Curie Nurses provide care for people who have chosen to die in their own home. If our nursing service isn't available in their area, we give them information about accessing care through another provider, such as one of our hospices, or another local hospice."
Find out more about getting help with care needs
What can I expect towards the end of life?
"A lot of our callers are worried about what the end of life will be like. They want to know what to expect and how they can prepare for it. Pain is often the focus of the question.
We encourage the caller to talk about their fears. We try to empathise with what they are feeling. I find that pointing them to the great information on our website can make it a little less scary."
Read about preparing for the end of life
What benefits am I entitled to?
"People who have been diagnosed with a terminal illness are often keen to know what benefits they might be entitled to. The question is always a tricky one because everyone's situation is different.
We try to give the caller as much information as we can, using our online content. However, if the caller needs specialist advice, we always direct them to a benefits expert, because we want them to get the best support possible."
Read about benefits and entitlements

How will I pay for my loved one's funeral?
"Funeral poverty is a real worry nowadays. We're frequently asked about how to cover the costs of a funeral. It's a very upsetting and stressful situation for people to face when they're bereaved. We tell callers not to feel pressured into paying for a funeral they can't afford."
Find out more about funeral costs
How do I talk to my child/children about death and dying?
Talking to children of any age about death and dying can be difficult. We try to help people feel more confident about it. If someone is planning to talk to a young child, we let them know that it's usually best to be completely honest from the beginning. It gives the child more time to come to terms with the news.
It's also likely to make the child feel more supported, and encourage them to ask any questions they have. We let the caller know that it's ok to tell a child if you don't know the answer to a question. It's ok to cry in front of the child too – it can encourage them to express their emotions.
When talking to a child about death and dying, it's really important to use language they will be able to understand. So we give the caller a chance to practice what they are going to say on us."
The Marie Curie Support Line is confidential and free to call on 0800 090 2309. It is open Monday to Friday 8am to 6pm, and on Saturday 11am to 5pm. You can also contact the Support Line through our web chat service.