House of Commons debates access to palliative care
MPs debated access to palliative care this evening, with the government agreeing it must take action to ensure fair access to care.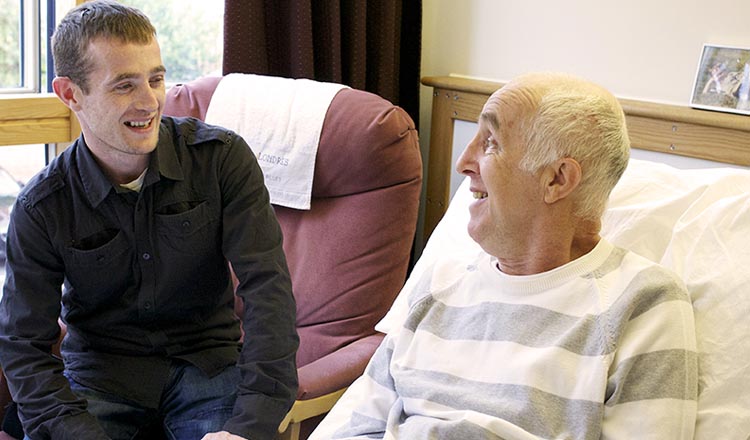 Adjournment debates in the House of Commons are typically short affairs, with time enough for the MP who brings the debate to speak and a minister to respond. This evening's debate on access to palliative care, brought by Lewes MP Maria Caulfield was not, however, short on quality.
Setting out her case for why the government should legislate to ensure a right for everyone to access palliative care, Ms Caulfield highlighted that, in the recent debate on assisted dying, members on both side of the debate were passionate that palliative care be available to all.
Unmeet needs
Sadly, this is not currently the case, and Ms Caulfield made this point using the London School of Economics report that Marie Curie commissioned – Equity in the Provision of Palliative Care in the UK – to point out that people with non-cancer diagnoses and older people were particularly likely to miss out on the care that they need at the end of their life.
As a former cancer nurse, Ms Caulfield emphasised that she did not wish to see the standards of care available to people with cancer diminish, but rather that everyone have access to this same, high quality palliative care.
She went on to point out that a bill recently introduced in the House of Lords by Baroness Finlay actually would provide the government and clinical commissioning groups (CCGs) in England all the tools to ensure everyone gets the palliative care they need. The bill would enshrine, in particular, 24/7 access to palliative care services.
Cradle to grave NHS
This bill was opposed in the Lords, with the minister, Lord Prior, suggesting clinical commissioning groups (CCGs) should simply be left to get on with business as usual, despite evidence showing that CCGs are cutting end of life care budgets and failing to include it in their strategic priorities.
Ms Caulfield urged the government to reconsider their opposition, saying that the NHS should be cradle to grave, but that "we are not getting death right in this country".
The minister's response
Ben Gummer MP, the Department for Health's recently appointed Minister for Quality, took a much more conciliatory tone in his response to Ms Caulfield than Lord Prior had taken to Baroness Finlay in the Lords.
"Palliative care is not a nice to have or a bonus," he said, "it's crucial." He praised the contribution of charities to palliative care and said that palliative care services must be cherished and improved.
He stressed the UK had much to be proud of when it comes to palliative care. He highlighted a recent report by the Economist which named the UK as the best country in the world for palliative care and cited some examples of very high quality palliative care.
Variable care
However, he conceded that availability of care is variable and this means that a number of people are dying in circumstances that leave a lot to be desired. He said that this is one of the reasons the government wants to get a seven-day-a-week NHS running.
He disagreed with Ms Caulfield that the government should legislate on access to palliative care, reiterating a point Lord Prior had made in the Lords: no other clinical area has legislation that instructs commissioners how to provide services. He is concerned that, if the government did so for palliative care, this would set a precedent.
Nevertheless, he felt that there were ways to achieve the same outcomes as the Access to Palliative Care Bill without legislating, such as through the NHS Mandate . He also promised that future policy developments would set out how the government would ensure fair access to palliative care.
What did we learn?
Ben Gummer gave an incredibly sincere speech in response to Ms Caulfield. This is probably the first time in recent years that a minister has directly conceded that access to palliative care is a problem that has distressing consequences and said that the government must take action to fix the problem.
This is a sign that care for people with a terminal illness is climbing up the government's agenda and that they see it as a priority for action.
This is no doubt because our supporters, our charity partners, and MPs and Lords have all been working alongside Marie Curie to make access to palliative care an issue that matters to government. Nobody who needs palliative care should have to go without.
Constant pressure
The danger of Mr Gummer's preferred approach of tackling the issue without legislation means, however, that if we don't keep constant pressure on the government then palliative care could slip back down the priorities. Action by Marie Curie supporters played a huge role in helping us call for tonight's debate.
Earlier today (Wednesday 4 November), we launched a new campaign asking MPs to pledge their support for everyone to have a right to access palliative care. Through this campaign and other initiatives, we can keep palliative and end of life care high on the agenda and put pressure on the government to end the huge variation in availability of care that sees so many people die with unmanaged symptoms.
We very much hope you can join in this campaign and urge your own MP to support the pledge.