Improving care for nursing home residents with dementia
Dementia is constantly in the press and will likely continue to be a topic of media interest as it now the most common cause of death in the UK. Most of the media coverage relates to the importance of early diagnosis and that elusive cure. But sadly, the reality is that most people who have the illness must live, and indeed, die with it. More than half of those who die will do so in a nursing home.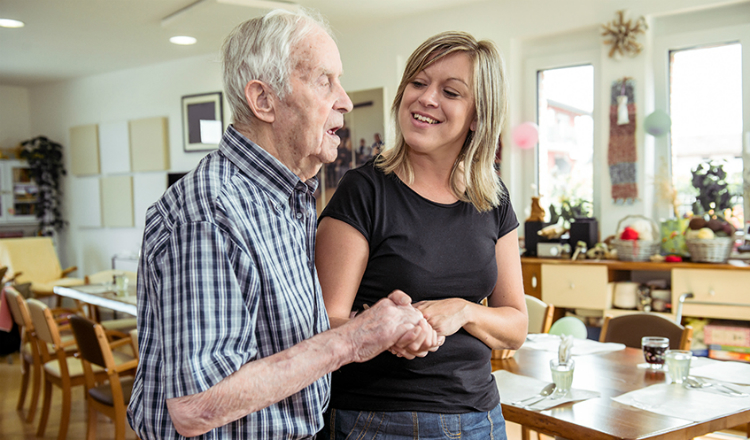 Complex symptoms, complex needs
In 2010 Marie Curie provided funding to its research team at University College London to study the experiences of those who are in the later stages of the illness and facing death.
We found that many people aren't receiving the level of care they need at the end of their lives, and that nursing homes are often struggling to cope with the complex symptoms and needs of residents living with the condition.
Just this week it was revealed that people with advanced dementia rarely receive the support of specialist services, and that most of their clinical care is provided by GPs and emergency services. Read the full research .
A new approach
With the knowledge we gathered, and having consulted with people with dementia, family carers and providers of care all across the UK, we devised a new approach to caring for people with advanced dementia who are living in nursing homes.
We called this new approach COMPASSION. It involves two key elements: an integrated, multidisciplinary team approach to helping people with dementia and their carers, and training and support for staff working in or with nursing homes.
To achieve this, COMPASSION involves a dedicated individual to provide leadership within the nursing home setting – an Interdisciplinary Care Leader (ICL).
Rolling out the model
The COMPASSION model was rolled-out for six months in two nursing homes in different CCGs in North London. Drawing on my social care background and experience of working with people with dementia in nursing homes, I was personally employed to take on the challenging role of ICL in both homes and document my experiences for a research paper.
We found that COMPASSION provided much needed specialised support and education for nursing home staff. They appreciated having someone available to ask questions and gain new insights into dementia and end of life care.
Our assessments of individual residents helped identify areas of care that may not otherwise have been picked up. Nurses also appreciated opportunities to watch and listen to how I tackled difficult end of life conversations with family carers.
My work was challenging, and the staff would have benefited from a longer period of support than I could offer during this preliminary roll out. But the ICL role was considered to be a valuable resource for both of the homes.
The role of external healthcare professionals
One thing that was striking during my time in the nursing homes was how crucial the support provided by external healthcare professionals was to the level of care that residents with dementia received.
There were different commissioning practices between the two areas. In one of the homes, different professionals were already used to working together. There was plenty of support from professionals such as the GP, a geriatrician, and palliative and mental health nurses who visited the home regularly and attended monthly meetings to discuss residents' end of life care needs.
At the second nursing home there was much more limited support, with fewer professionals visiting the home and the busy GP unable to commit to meetings which were only attended by the nursing home staff.
We had to modify our approach but even with these challenges, we were able to bring about significant improvement, helping the home to implement an observational tool to help assess and manage pain for residents with dementia.
Support from outside is vital
While the COMPASSION model requires more research to confirm that it improves care outcomes, we believe that it has great potential.
However, testing the model in real-life nursing home settings has highlighted that, to bring about real and long term changes in practice will require a more intensive approach. And crucially, it will require the support of commissioners to ensure that nursing homes are adequately supported by their local palliative, geriatric and mental health services.
Read full details of the study in BMJ Open .
Download the free COMPASSION manual , developed to enable other UK nursing homes to implement the new model of care themselves and improve their dementia care practices.