Everybody loves a 'Feel Good Friday'
Every Friday, the Marie Curie Hospice, Glasgow holds a Feel Good Friday social session for people at the hospice. Healthcare Assistant Rosemary Young explains why having a bit of fun is all in a day's work at the hospice.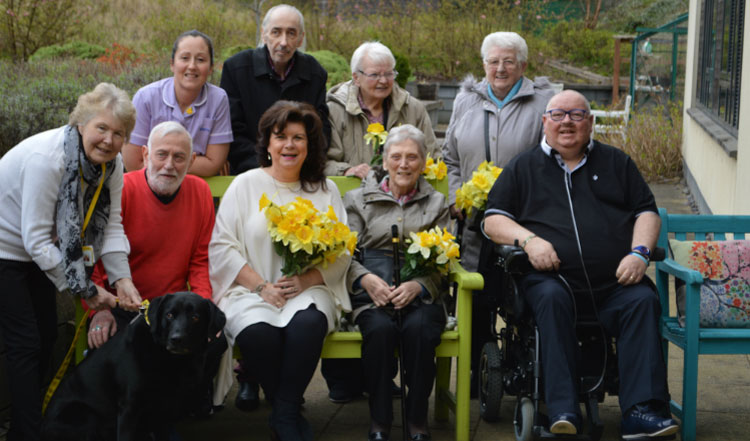 "Music is a great tonic"
Each Friday, we invite a different singer who performs for free at our 'Feel Good Friday' session. The music we get is varied, from Frank Sinatra to Abba to Neil Diamond, so people who come regularly don't always know what to expect. It keeps things interesting.
Music can bring back fond memories for some people, helping them to relax and bond with others. It can also help people to take their minds off their problems for a little while.
We try to cater to different music tastes. There's usually something for everybody. On two occasions, we even hosted actress Elaine C Smith and The X Factor finalist Nicholas McDonald. They dropped by our hospice to entertain us with their singing, stories and jokes, creating such memorable moments for many of us.
"People enjoy being together"
We have day services patients who come each week to 'Feel Good Friday' when they feel well enough. They look forward to it as they can meet with the friends they've made there and enjoy one another's company.
Sometimes their families come along too as they appreciate a bit of entertainment to lighten things up. We'll serve some nibbles and have the drinks trolley out so people can have a wee glass of whiskey or wine while they mingle with others.
It's great to hear people say that 'Feel Good Friday' gets them out of their house and puts a smile on their face. For some of the people we look after, this is the only socialising they get to do in the week so it's important they're getting the most out of these sessions.
"Just the opposite of sad and gloomy"
People who attend 'Feel Good Friday' often tell me that, if someone was walking past our hospice and they could hear all the music and noise we're making, they'd be so surprised to know it's coming from a hospice of all places.
I think there's still a misconception out there that a hospice means gloom and doom. In a way, I'm hoping our feel good sessions are helping to dispel the notion that a hospice is a quiet and sad place. Because if you happen to be at our hospice on a late Friday morning, you will certainly hear music and laughter!
"It's just a bit of fun"
We don't take things too seriously – it's all about making sure people can have a good time. You can tell that they are when they tap their feet, clap their hands and sing along to the songs. And quite a few of them do get up and dance!
Someone once told me how much fun their mother was having after attending a session, saying 'This is the way Mum used to be, enjoying the moment'. It does really bring out the fun, lighter side of people.
When I look at the photos we've taken at 'Feel Good Friday' sessions, it's nice to see how relaxed people look and the fun they're having. For me, it makes all the effort and stress of organising these sessions most worthwhile. And if people came out for the day for this activity and they were happy for a wee bit, then we've achieve what we've set out to do.
"There's tai chi and bingo too"
At our hospice, we know how important it is to keep people's spirits up so we offer a selection of activities that's good for their wellbeing.
Our Reminiscent group meet regularly to talk about things they remember from the past. We also have weekly tai chi classes which help people with their movement and concentration, and bingo and quiz sessions that people can join in for some entertainment.
It's all about getting people to be active and sociable, and to enjoy their time with us as much as they can.
'Feel Good Friday' is every Friday, from 10.30am to 12.30pm. Read more about other activities at the Marie Curie Hospice, Glasgow.