'I feel so loved': being cared for at home was so important to Beenie
After Jane Hilton's sister Barbara (known as Beenie) was diagnosed with a brain tumour, Marie Curie Nurses cared for her at home with her family.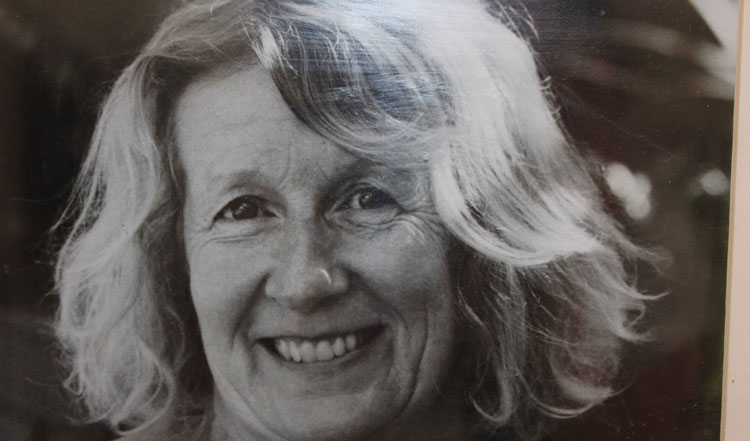 My sister Beenie (pictured above) was a very special person. She was the matriarch of the family – the oldest girl out of five children. She was very wise and had wonderful ideas about many things.
People say: "Was she like you?" And I say, "No, I'm like her. I learnt so very much from her."
In 2002, she was diagnosed with a grade four brain tumour. She was only supposed to have survived 9-12 months. But her sheer determination kept her going. She survived about three and a half years. She was 56 when she died.
Nursing support
Russ, her husband, was her rock and he was absolutely brilliant. But we very much appreciated the wonderful support from Marie Curie. The nurses were wonderful. They gave her reassurance, kindness, comfort and a huge amount of support, which in turn gave her loving husband support too.
Having Marie Curie Nurses enabled her to die in her own home, and as she was such a home girl, it was very important to her. She would not have wanted a clinical surrounding. She wouldn't have even wanted to go into a hospice, she wanted to be in her own home.
She always wanted to look beautiful. She was really fashion-conscious and she always looked lovely. Russ was her carer, but she would have hated for him to have to clean her, or do that very personal care. So having the nurses to do things like that enabled her to look beautiful for him, and he didn't have to do that job. She couldn't have borne that. Even though she was dying, she still wanted to look lovely for him.
Memorial day
If it's possible to die in a nice way, Beenie had the best in my eyes. So many people die alone, but she had wonderful care. I never wanted to cry in front of her, because I always wanted to be brave for her. But on one occasion I just broke down and cried with her. And I said, "I'm so sorry, I couldn't help it." And she said, "It's OK, I honestly can't cry, I feel so loved and so looked after."
We always get together for a memorial day for Beenie, around the August Bank Holiday weekend, which is the anniversary of her death. It all started with the men in the family having a golf competition. The golf is played in the morning and in the afternoon the rest of us get together and make afternoon tea. We have a photograph of her and we talk about her (we talk about her all the time, anyway).
But this year we wanted to do something more with it. Because Marie Curie had nursed Beenie in the last weeks of her life, we thought it would be nice to start thinking about giving something back. So we decided to raise money for Marie Curie.
Fundraising target
I went online to request fundraising support – I was just expecting a box for donations that I could make up myself. I was so thrilled when one of the co-ordinators got in touch with me and said we can give you balloons, bunting and an advice pack.
We raised £200 – and we're going try to do it every year now. We would like to support others who have a similar story to us.
Marie Curie can make a difference to so many people. We're a large family and have always supported each other, but for a lot of people out there, it's even more important for them to have people like Marie Curie Nurses coming in, because they don't have that support around them. It must very lonely, to be terminally ill, and not have that love around you. Because that love keeps you going. It sees you through.
If you're raising money for Marie Curie, remember to set up your own JustGiving page . It's a great way to tell your friends, family and colleagues why you're fundraising and why you need their support.

Every £20 you raise pays for a Marie Curie Nurse to care for someone in their home for one hour, providing vital care and emotional support.