When you've nowhere to call home, where do you spend your final days?
Home is a special place. As Dorothy Gale said, there's no place like it. So it's no surprise most of us would choose to spend our final days in our homes. But when you've nowhere to call home, where do you go to die?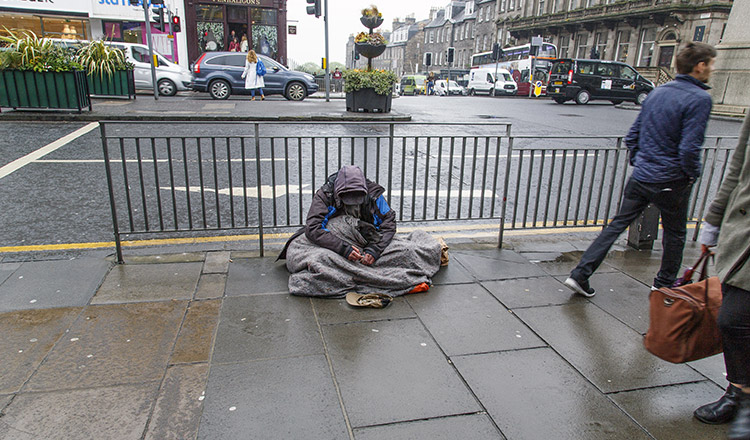 A new study led by Marie Curie researchers at UCL, with Pathway, St Mungo's and Coordinate my Care, has found that homeless people with a terminal illness are spending the end of their lives shuttling between the streets, hostels and hospitals – without the proper care and support they need.
Covering three London boroughs with high volumes of homeless people and homelessness services, this is the largest study of its kind and the first to shine a light on this often forgotten issue. The findings, including accounts from homeless people themselves, make for tough reading.
A complex issue
Homeless people often die young. Drug and alcohol issues are common, as are mental health problems. Together, they can make it extremely tough to get proper care for conditions such as advanced liver disease.
The researchers found that if you're homeless and living with a terminal illness like this, it's rare that you'll receive adequate care and support in your community. Instead, you might turn to the only place where you feel welcome – the homeless hostel.
The pressure on homeless hostels
Homeless hostels give shelter and support to people who are without fixed accommodation. But they're by no means equipped to deal with the complexities of end of life care.
"Hostels provide temporary accommodation," explains Dr Caroline Shulman, who led the research. "They are not designed to meet the needs of seriously ill or terminally ill residents. Hostel staff often struggle to secure additional support from social services or palliative care services for their residents who have complex problems."
'This isn't an appropriate environment'
The result is hostel staff put under pressure to care for seriously ill people, despite not having the palliative care training, support or resources to do so.
"At least three times a shift we check she's ok," said a hostel staff member of a resident with a terminal illness. "It's hard…particularly on weekends and nights when we only have two staff…it's a big hostel…you really can only do so much…this isn't an appropriate environment, but it's the best we have."
For other homeless people at the hostel, witnessing the final weeks and days of other residents can be distressing.
"You've got to walk past those people," said one resident. "They half-block the stairwell, you have to edge your way past… It becomes part of the furniture, but it disturbs me as a person…"
Rethinking 'home'
At Marie Curie, we believe everyone deserves compassionate care and a dignified death, regardless of their personal circumstance. So what can be done when dying at 'home' means something completely different?
As one person who'd experienced homelessness commented: "There's been a few guys that were in hospital, told they were dying…They didn't want to go to any hospice, they didn't want to…stay in hospital, they wanted to die in the homeless hostel."
Urgent action is needed
It's clear from these accounts that change is long overdue. The research shows that we need to get health, housing, social services and the voluntary sector working together. And perhaps more crucially it recognises that, if a hostel is the closest thing to home for someone and they wish to die there, hostel staff desperately need more support.
One of the researchers' key recommendations is setting up a specialist health hostel, with staff who not only understand the complex needs of homeless people, but can also offer 24-hour support for people with serious illnesses, including those who are dying.
Next steps
In the coming months, the Care Quality Commission (CQC), the independent regulator of health and adult social care in England, will be publishing a report making recommendations on how we provide better care to the most vulnerable in our communities.
We look forward to reading their recommendations and working as part of the solution for people who, until now, have died without a say in their care.
---