I lost my old life to MND. The hospice helped me start a new one
Sarah Ezekiel was 34 years old when she was diagnosed with motor neurone disease (MND). Attending a hospice has helped her cope, which is why she believes more people with MND should have access to this type of care.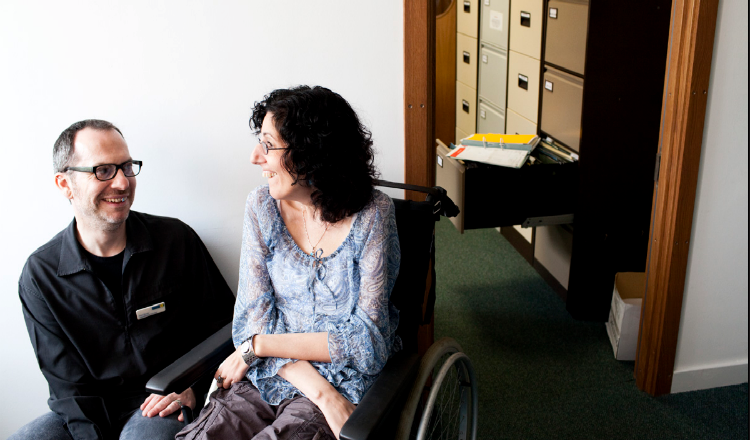 My daughter was three years old, and I was seven months pregnant with my second child, when I was diagnosed with motor neurone disease in 2000. I was told that I probably wouldn't see them grow up.
The disease progressed rapidly and I became totally dependent on others. I was terrified of dying and extremely depressed. My marriage collapsed under the strain. I couldn't look after myself or my children. Seeing strangers caring for my baby was heart-breaking.
A place where I was understood
I was referred to the Marie Curie Hospice, Hampstead by my MND Association visitor. I couldn't imagine hanging out at a hospice and told her that I wasn't interested. But I'd become painfully thin, couldn't sleep and was very depressed. My brother made an appointment for me to see a doctor at the hospice. I was too weak to protest.
My regular GP seemed more scared of MND than I was, but the doctors at the hospice seemed to understand how I felt. I was comforted for the first time since diagnosis. They suggested I start attending their day therapy unit, to use the gym and have some massage. I agreed, and before long the hospice became part of my weekly routine.
I'm often greeted by Bob, the hospice dog. It's a real tonic and brightens up my day. MND can make you feel very isolated, but the hospice provides an opportunity to get out and meet people. The staff help me stay positive and I've made many friends. Sadly some have since passed away, but I feel lucky to have known them.
People with MND need palliative care too
I'm fortunate to have survived much longer than most people with MND. Living as a severely disabled person causes complex difficulties. The Marie Curie Hospice supports me in every way. I lost my old life, but they helped me to start a new one.
The right care is so important when you have a terminal illness. I find hospitals frightening, especially since my speech is so badly impaired. I'm glad to know I have somewhere to go if I'm ill. Before, I was pushed from pillar to post but that immediately changed and now I have everything taken care of at the hospice.
Many people believe hospices only help people with cancer, but they do a great deal for patients with MND too. That's why I think it's crucial that research is done to make sure palliative care is available to people with MND. It's not always recognised that we need that holistic approach to care too.
I know I'll be supported at the end
I can't imagine my life without the hospice. MND terrified me at first, but I no longer fear it. The hospice has also supported my children, who were traumatised by my illness. They're now well-balanced and wonderful young people, and I'm so grateful that they emerged unscathed.
I believe that the hospice will make my death as painless as possible, which was one of my worries after diagnosis. It's good to know that, when the time comes, I'll be able to pass away with dignity and peace.
---
Marie Curie and the MND Association have joined forces to fund three new research studies that aim to improve the quality of palliative and end of life care for people with MND, and their carers. Find out more.