Marie and Pierre Curie: a marriage of true minds
Marie Curie and her husband, Pierre came together through a shared love of science and research. They spent their marriage working side by side, sharing ground-breaking scientific discoveries and a Nobel Prize.
Polish by birth, Maria Sklodowska moved to France in 1891 and enrolled at Sorbonne University in Paris. She was introduced to Pierre Curie by Polish physicist and Professor, Count Józef Wierusz-Kowalski.
Józef had actually known Marie for some time, having sponsored her through her studies in Warsaw and invited her to stay when she moved to Paris. He also helped her gain her place at Sorbonne.
First impressions
On her first meeting with Pierre, Marie recalled: "As I entered the room, Pierre Curie was standing in the recess of a French window opening on a balcony. He seemed to me very young, though he was at that time 35 years old.
"I was struck by the open expression of his face and by the slight suggestion of detachment in his whole attitude. His speech, rather slow and deliberate, his simplicity, and his smile, at once grave and youthful, inspired confidence."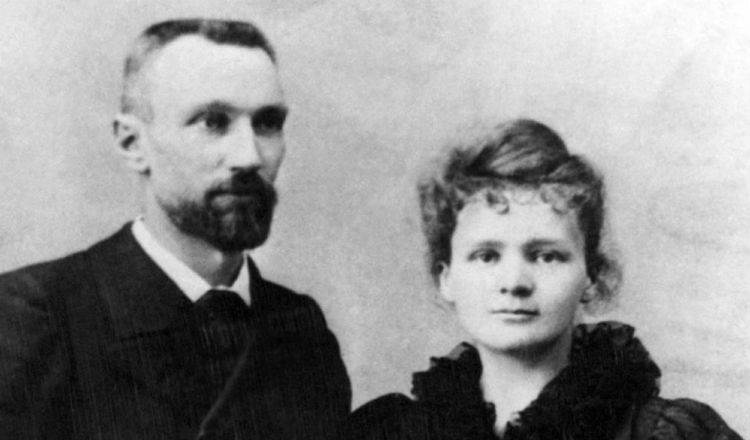 Married in laboratory dress
Within a year, Pierre asked for Marie's hand in marriage. At the time, she did not accept because she planned to return to Poland to work.
But when Marie was denied a place at Kraków University because she was a woman, Pierre convinced her to return to Paris.
On 26 July 1895 Pierre and Marie had a civil wedding ceremony in Sceaux. Instead of a bridal gown, Marie chose a dark blue dress. She explained: "I have no dress except the one I wear every day.
"If you are going to be kind enough to give me one, please let it be practical and dark so that I can put it on afterwards to go to the laboratory."
For their honeymoon, the Curies took a bicycle tour around the French countryside. Pierre and Marie had two daughters, Irene and Eve.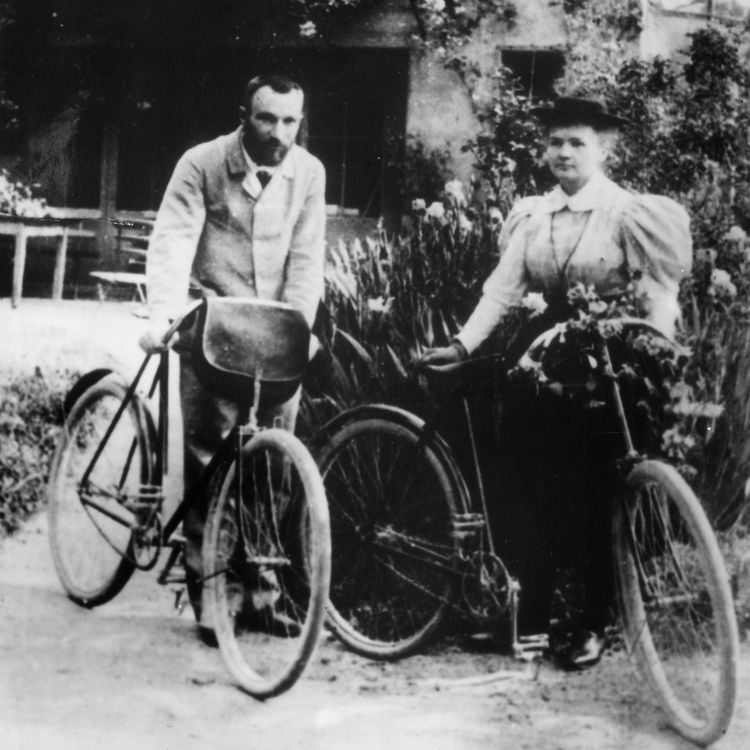 Acheiving together
In 1903, the couple won the Noble Prize for physics, along with Henri Becquerel, for their joint research on radiation. At first, Marie was not included in the nomination.
But when Pierre found out he complained and Marie's name was added, making her the first woman to be awarded a Nobel Prize.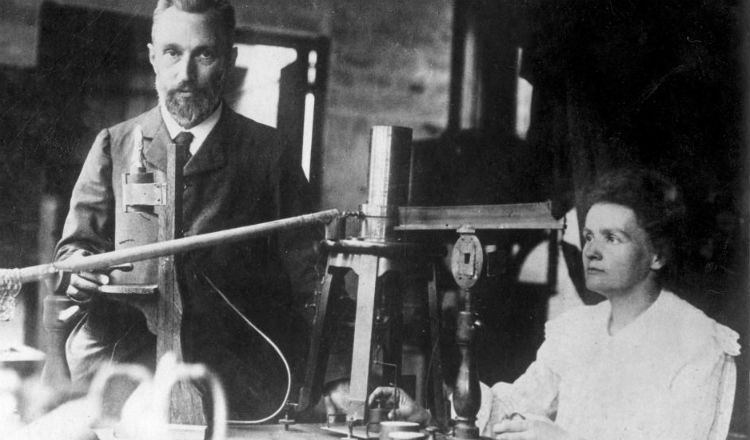 Marie's tribute to Pierre
On 19 April 1906 tragedy struck the family when Pierre was killed. He was hit by a horse-drawn vehicle and fell under the wheels.
Marie was devastated but determined to honour him in any way she could.
On 13 May, she succeeded him in his Chair as a Professor at the Sorbonne. She went on to create a world-class laboratory as a tribute to her late husband and became the first woman professor at the University.
Read about the Marie and Pierre's romance in Marie's own words Find out more about Marie Curie's work Find out why we are named after her