Meet the choir singing to support each other through terminal illness and beyond
Walk through the doors of the Marie Curie Hospice, West Midlands on a Tuesday evening around 7pm and you'll be met with the sounds of music, laughter and song. It's practice time for the Daffodil Community Choir, a group of people from the local community who sing together every week.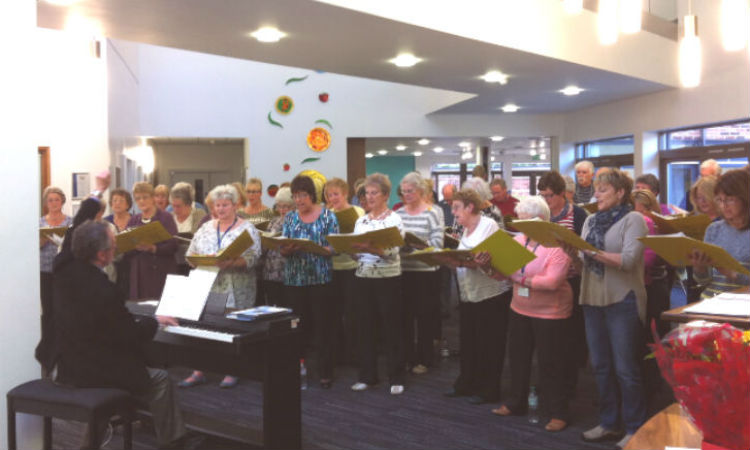 The Daffodil Community Choir has been tuning up at the hospice since May 2013, when Adult Bereavement Support Coordinator Jane Murray decided to see if singing could help dispel some of the fear that often surrounds the words 'hospice' and 'terminal illness'.
"It's been a great way to get people to come to the hospice who perhaps wouldn't have felt comfortable visiting before," says Jane. "We're open to everyone, regardless of what stage of life they are at. Our current members include people who are being cared for here, family members of people receiving support, people who are bereaved, hospice staff and volunteers, and people from the local area with no connection to the hospice. It's a real mix."
A community choir with a difference
The choir began with around 12 singers, and over the years has gradually grown to more than 60 members. They're led by conductor Stephen Perrins, who for 23 years was the Director of Music at nearby Solihull School. "He's the perfect person to bring music alive for the choir," says Jane, "even for people who think they can't sing!"
The emphasis at the choir is on having fun together – something that's apparent from their eclectic song list. The current repertoire features the pop classic 'When I'm Sixty-Four', gospel favourite 'This Little Light of Mine' and even the old sea shanty 'What Shall We Do with a Drunken Sailor'!
Somewhere to find support
But there's also a serious side to the singing. Before every practice, the hospice's Adult Bereavement Support team are on hand to listen and support anyone who wants to talk – whether that's about life with a terminal illness, looking after someone or coping with the loss of a loved one.
"Coming together to sing gives people a place of comfort and support," says Jane. "It's a time to be in the present. Singing has also helped some of our members learn how to breathe in a controlled way, which can help with anxiety."
Roy is a member of the choir, and joined after his wife died. "I was reluctant to join the choir as I haven't sung in years, but I was persuaded and I haven't looked back. When my wife was ill and I was caring for her, my life revolved around her needs. I didn't realise until after she had gone how much my world had shrunk in that time. The choir is such fun and everyone is so warm and welcoming."
Singing for patients and their families
The choir's performances have become a hotly anticipated part of the hospice's social calendar, and every six weeks they'll sing in the reception area. "The nurses will help patients come out to listen to us, often in their beds," says Jane. "Their families will come too and lots of people join in the songs with us. We'll be singing at this year's Blooming Great Tea Party, of course."
The choir is also well-known in the local area. "Last year we were invited to sing at a late night shopping event on the high street. Next month we're giving a recital at a nearby church to raise money for the hospice."
Being part of the community is what makes the choir so important, Jane believes. "One of our choir members had a close relative who was cared for at the hospice. He's since told me that because he knew the hospice well from being in the choir, it made things much easier as it all felt more familiar. The relative had also attended choir performances, so this helped to alleviate some apprehension about coming to be cared for at the hospice."
Together through thick and thin
With new members always warmly welcomed, it doesn't seem like the Daffodil Community Choir will be stopping the music anytime soon.
"The one comment I hear frequently from members is 'what would I do without the choir?' It's a highlight in their week."