Isn't palliative care just for people near the end of their lives?
Dr Clare Rayment, Consultant in Palliative Care at the Marie Curie Hospice, Bradford, looks at some of the common myths about palliative care, and explains why it's important to understand who should get it, and when.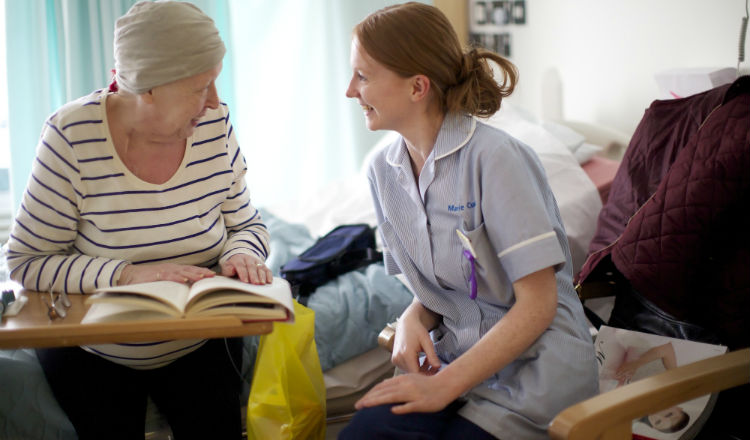 Myth: Palliative care is only for people who are approaching the end of their lives and are no longer receiving any treatment for their illness.
Fact: People can receive palliative care alongside any ongoing treatment or drug therapies and at any point of a terminal or progressive condition. They could be in their last months, weeks, days or hours of life.
Even though the goal of palliative care is to improve someone's quality of life rather than prolong it, it can still be provided alongside any treatments they may already be getting to help with their illness.
So if a doctor suggests palliative care, it really doesn't mean they've given up on the patient and they will still offer further treatments as needed.
Myth: Palliative care is just about helping people relieve pain and other physical symptoms.
Fact: The aim of palliative care is to help people with any terminal or complex, progressive illness have the best possible quality of life.
Palliative care is an approach, rather than a type of treatment. It involves a combination of care and support that looks after all the important aspects of a person's wellbeing ̶ whether it's their physical, psychological, social or spiritual needs.
It's about helping people to live with their illness with as much comfort and peace of mind, for as long as possible.
Myth: Only the person who is ill can benefit from palliative care.
Fact: Palliative care is designed to help the family and friends of the person who is ill as well. If someone close to you has a terminal or progressive illness, it can have a big impact on you.
Specialist palliative care facilities like Marie Curie Hospices offer a wide range of support for families and friends, including complementary therapies, counselling, spiritual support and practical advice.
Myth: Palliative care is for people who have cancer.
Fact: People with any terminal or progressive illness can benefit from palliative care at different points of their illness.
This means palliative care can help people with conditions such as heart failure, chronic obstructive pulmonary disease, dementia, end-stage liver disease, motor neurone disease, multiple sclerosis, Parkinson's disease and stroke.
However, people with these conditions are less likely to receive palliative care than people with terminal cancer, as it's harder to predict when they might need it. This means some people who can benefit from palliative care are either missing out entirely, or they're not getting it at earlier stages of their illness.
Marie Curie published a report last summer looking at the barriers which are preventing people with a terminal condition other than cancer from accessing the palliative care they need, and the 'triggers' that healthcare professionals should look out for when a referral to palliative care services is appropriate for their patient.
The report found that there is limited understanding of what palliative care can do, who it benefits and when to introduce it. It also showed that generalist healthcare professionals do not always receive enough training in the area and therefore miss the signs when their patients need palliative care, or when they're nearing the end of their lives.
Myth: Palliative care is only provided by specialists, in a specialist care setting such as a hospice or hospital palliative care unit.
Fact: Palliative care is delivered by many kinds of healthcare teams, in general practice and hospitals as well as specialists in palliative care, and in a range of settings including people's homes, hospitals, care homes and hospices.
Although there are healthcare professionals who are trained palliative care specialists, most of this type of care is delivered by people who don't specialise in palliative care such as GPs and community nurses.
As they see patients on a regular basis, they're more likely to be involved in the day-to-day care of people who would benefit from palliative care. They can assess what people need, give them practical information and advice, and work with other care providers, including specialist palliative care teams, to make sure people are supported ̶ whether they're being cared for at home, in a care home or in hospital.
Specialist palliative care teams work in hospices but there are also teams based in the hospital and community. They include consultants, clinical nurse specialists and specialist allied health professionals such as physiotherapists, occupational therapists, social workers and chaplains. They have extensive training and experience in palliative care, so they can help patients with very complex physical, social or psychological needs.
Find more information about palliative and end of life care.