What kind of person becomes a Marie Curie Nurse?
Actually, there's no such thing as a 'typical' Marie Curie Nurse. As these three people from widely different walks of life show, the main thing they share is a capacity for caring.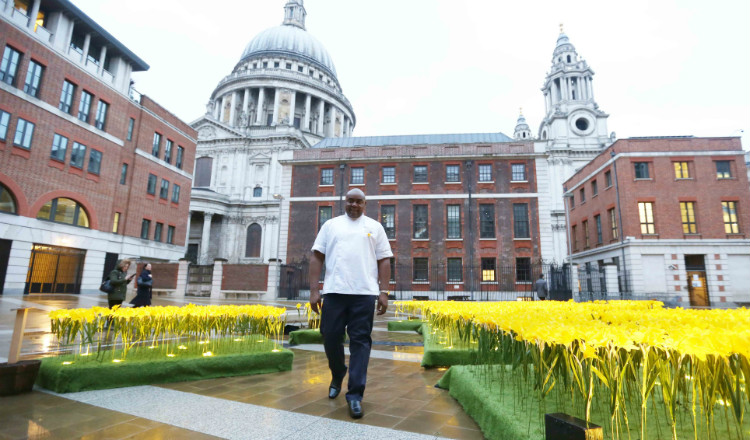 Justin originally came to London with dreams of making it in the fashion world. And after graduating from the London Centre of Fashion Studies and being hired as a pattern cutter for a clothing company, his life seemed to be on track.
But something just didn't fit right. "The job just wasn't what I thought it would be," he recalls. "It was enjoyable and I was good at it, but I remember thinking that as a career, this was not going to work for me."
As it happened, Justin was also working at the time as a day centre support worker ("just to top up my earnings, really"). But gradually, his interest in healthcare grew and he realised this was what he really wanted to do.
"I plucked up the courage to enrol in a nursing course and five years later finally received my Adult Nursing degree," he says. At first, Justin worked for an agency but his growing interest in caring for people living with a terminal illness, and their families, eventually led to him becoming a Marie Curie Nurse.
Fittingly, the sharp eye and close attention to detail that served him so well in his old career still come in useful now. He explains: "I try and get as much information as possible about the patient, and make sure I understand each family's particular anxieties. It's all about building a rapport, and correctly assessing their needs.
"When everything comes together, and you can see that the family and person receiving care are being looked after in the best way – that's where I get my joy from!"
These days, Justin doesn't miss the fashion world at all. "I'm passionate about this job and always want to do more. I'd encourage anyone interested in this kind of nursing to just go for it. It's been so rewarding for me."
Ian always enjoyed looking after people. For many years, he managed a succession of hotels in Scotland. Next, he moved on to a corporate hospitality role at the huge Murrayfield Stadium in Edinburgh.
So when tens of thousands gathered for rugby matches and concerts, Ian was right there in the thick of it.
"It was hard work but a lot of fun," he remembers. "I enjoyed the challenge of managing different teams – and most of all, I liked working with people."
But finally, after 20 years in the hospitality world, Ian felt it was time for a change. He decided to go back to university in 2002 and do an adult nursing degree. He explains: "I wanted to still use my love of working with and helping people, so nursing seemed a natural choice.
During his training, Ian did a placement at the Marie Curie Hospice, Edinburgh and knew that was where he wanted to be. He recalls: "I just thought: What a serene, comfortable and welcoming place this is."
Ten years on, Ian loves his job ("I have no intention of doing anything else," he says) and more wonderful memories than he can count: "We had a chap who, by the time I met him, was quite close to the end of his life. He had a large tumour and had lost most of his face, including his jaw. When we regularly dressed the wounds, which would have been very painful, we would try and make the process as pleasant as possible by making conversation and cracking jokes.
What was amazing was the spirit and humour that shone through just his eyes, despite him not having features to smile. Despite everything, we could see in his eyes that he was laughing. That's stayed with me for years. Even thinking about it now chokes me up."
For many years, Clare was more concerned with table covers than bed covers. Clare spent many years in the fast-paced restaurant management business and worked abroad for 14 years. But by the time she came home to the UK, she felt ready for a career change – and knew what the next step might be.
"Like a lot of people, I have lost somebody to cancer," she recalls. "And the nurses who provided the care during my sad time determined my path for me."
"They were so caring and I had such a positive experience with them – I just thought: That's exactly what I want to do."
Clare became a Marie Curie Nurse in 2008 and hasn't looked back since: "I absolutely love it and couldn't imagine doing anything else!"
True, the worlds of managing a noisy, bustling restaurant and quietly caring for someone with a terminal illness couldn't be further apart. But in her new role Clare feels she has found her calling.
"When someone's life is nearing its close and you're there with their family members, I think it's really important to remember what it feels like to be on the other side of the uniform," she says.
"And that's what Marie Curie nurses do. We take the human side of things into account and put it into our working practice every day."