Saying goodbye to my 'better half'
After 40 happy years with husband Ken, Jennie was dreading the prospect of him 'wasting away' at home. But with a Marie Curie Nurse by her side, they had a perfect and peaceful farewell. This is her story.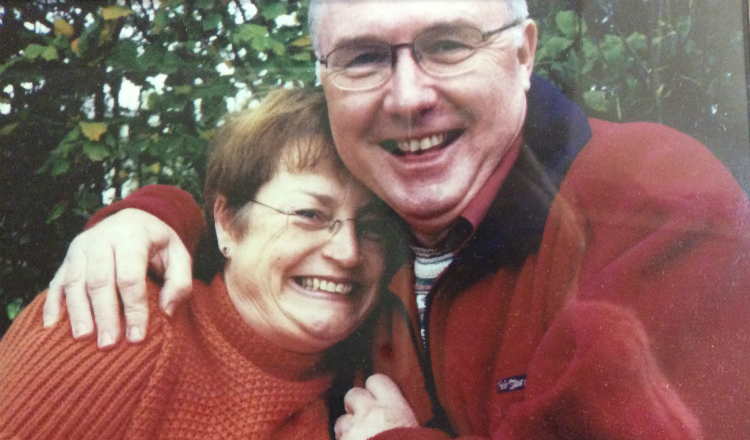 Ken told us he wanted to come home to die.
He had been diagnosed with terminal abdominal cancer months earlier. And as the end approached, he chatted with the nurses about his options. He told me: "I want to be home, but not if you can't cope."
And the truth is, I was worried about coping. I thought my son, daughter and I would be left looking after him ourselves, 24/7. But then the hospital said we'd have district nurses during the day and Marie Curie Nurses calling round at night.
Family goodbye
And that's what happened. First we had one Marie Curie Nurse visit, and then another Marie Curie lady came on the evening Ken died. And she was wonderful.
When she arrived, she first said hello to my husband, and then said: "Come into the kitchen; let's have a cup of tea and you can tell me Ken's story." That was really nice, because she obviously wanted to know who he was. That meant a lot to me.
After a while, the nurse sent me off to bed to get some sleep. But later that evening, she came down and just said: "Come and be with him". Meanwhile, she'd told my son, who'd been staying with us along with his partner, to ring his sister and ask her to come up the road to our house. Thanks to her, we were all there when Ken actually passed away.
Forty happy years
Afterwards, it was such a big support to have the nurse there. She asked if I wanted to help tidy him up. I'd never touched a dead body before, but with her there it seemed okay.
She did everything with such care and chatted to Ken as though he was still alive. When it was time for him to be taken away, she said: "Don't worry, I'll make sure he is treated with dignity."
Of course, I still miss him terribly. Recently, I dreamt that he was there and I was cuddling him, and it was so very real. I woke up and it was like I felt his presence. I know I am never going to get over losing him. But I also know we had nearly 40 years together and that he died at home like he wanted to, with me right beside him.
Strong supporters
After the funeral, we all knew that as a family we wanted to support Marie Curie. First, my daughter did the Swimathon. Then I was asked if I was interested in joining the local group of volunteers.
Since then, I've done the Blooming Great Tea Party and sold raffle tickets and done quizzes, all those kinds of things. And I recently joined the Expert Voices Group , which advises Marie Curie on the best ways to support those living with a terminal illness. I'm retired now so have more time to help.
Ken was a very good father, a truly wonderful husband and we had a very happy marriage. Now I try to look on the positive side, and be grateful that I had so much time with him. He was always my better half.
---
If you're living with a terminal illness, or caring for someone who is, our Support Line can help. Call us on 0800 090 2309. Calls are free from landlines and most mobiles.