Research helps us improve care and support for people with terminal cancer
Around two thirds of the people our nurses care for have terminal cancer. To mark World Cancer Day on Saturday 4 February, we share some of the research we're investing in to improve how we support people affected by the disease.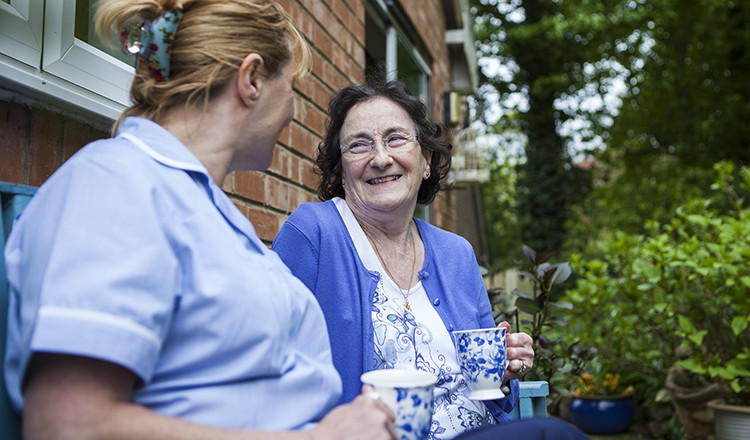 Think of Marie Curie and the image of a nurse probably comes to mind. Someone who can care for you and your family in the place you want to be, and ensure the end of someone's life is as peaceful as possible.
Think of Marie Curie and you might not initially think of a researcher. But understanding how we should care for people at the end of their lives when they're living with complex diseases like cancer is a key part of what we do. That's why it's vital we invest in research in this underfunded area.
More research, better care
Of the £503 million spent on cancer-related research in 2013 just a tiny 0.61% was invested in palliative and end of life care research. However, it's an area we know can make a big difference to people's quality of life, and 50% of the funding spent on this area came from Marie Curie.
Since 2010, we've invested in more than 40 individual projects, including many focused on cancer. Researchers at our palliative care research centres, hospices and at universities across the UK are carrying out a range of studies and trials to help people living with blood cancers, lung cancer, pancreatic cancer and ovarian cancer, to name a few.
Managing symptoms to improve quality of life
By understanding what happens at the end of someone's life when they have a specific disease, we can work to make sure they receive the best possible care. Research we've funded into leukaemia, lymphoma and myeloma, for example, is helping to find out why people with blood cancers are more likely to die in hospital.
New knowledge means we can help people living with terminal cancer manage distressing symptoms like pain. As another example, a study being led by Professor Marie Fallon from the University of Edinburgh is aiming to develop a way to identify who will benefit most from treatment for bone pain caused by cancer. Here, she explains why this is important.
Leading the way
As Nick Tracey, whose mum died from cancer, puts it, research can help us do what's best. From investigating ways to improve care for adults and young people with terminal illnesses, to how to better manage symptoms like bowel obstruction, to developing ways to help doctors identify and support home-based carers, we are leading the way in this much-needed, but often overlooked, area of care.
---
This World Cancer Day, Saturday 4 February, Marie Curie is joining forces with nine other charities to make a bigger impact for people affected by cancer. Show your support by wearing a Unity Band® - available in Marie Curie Shops for a suggested donation of £2.
Find out more about our research, including funding opportunities for researchers.