Round-the-clock care
Marie Curie Nurses are there for people day and night, in hospices and in homes across the UK, whenever they're needed most. Mairead and David talk about what it's like to provide that care, whatever the hour.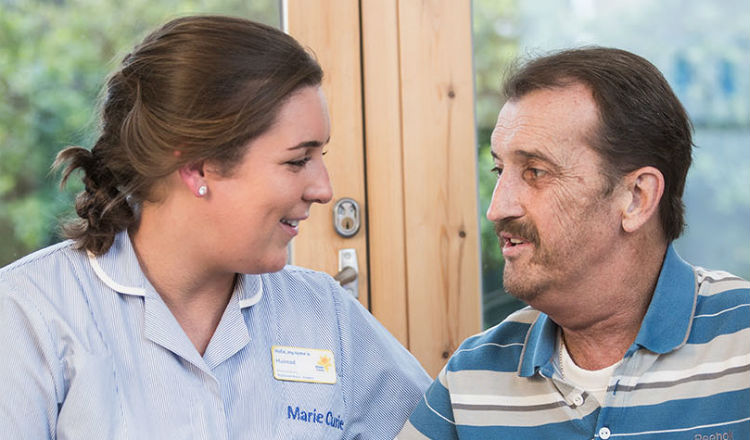 Day - 8am to 4pm
Mairead Gibson has worked as a nurse for Marie Curie for almost 10 years. She shares what a typical day at the Marie Curie Hospice, Belfast day therapy unit is like.
"I was inspired to become a nurse by seeing what Marie Curie Nurses do first-hand. My neighbour at home was dying and she had very young children. When I saw the uniforms coming in and out, I just thought: 'That's what I want to do.'
The day usually starts with a meeting when the team discusses our patients and how they're doing.
People arrive for day therapy at around 10am, and most come every week. Managing all of these people looking after you, sorting appointments, and organising medications can get so confusing when you become sick. Being here pulls everything together.
We support people in every way we can at day therapy. Recently we had a session where we talked about death very openly. It was a great conversation. Whatever helps people and whatever they want to talk about, that's what we do.
12.30pm is lunchtime for our patients. The social side of day therapy at the hospice is hugely important, especially for those who don't leave the house very often.
I love working here – it's such a privilege to be there for the patients. They'll introduce us to their families and tell us about themselves; many have had such interesting lives. It's lovely just to get to know them and for them to let you in to their life.
My shift finishes around 4pm. It's a difficult job. No one does it for fame or riches, but it really is something very special."
For nurses working in our hospices, evening is the time they make sure everyone who is staying as an in-patient is comfortable. This could mean giving medications, taking regular measurements like people's blood pressure, and helping them get ready for bed. If someone has a relative who wants to stay overnight at the hospice, our nurses can also help them get settled.
A Marie Curie Nurse who works in someone's home might just be starting their day, waking up after last night's shift. They'll receive a phone call telling them who they'll be caring for tonight, and how that person and their family are doing. The nurse will then call the person or their family to let them know they're on their way.
Night - 10pm to 7am
David Obamakin is a Marie Curie Nurse based in London. He explains what it's like to care for someone one on one, through the night, in their own home.
"When I go to work, I have two responsibilities – my primary responsibility is to the patient and my second responsibility is to the family. So when I arrive at someone's door, I always make that known, that I am there for both.
Every shift is different because every person is different. When I first come in, I see what stage the patient is at. Some people just want you to hold their hand. Others want me to explain everything to them and how it works.
This job is not based on a job description – it is much more than that. Some patients might want a bath in the middle of the night. If that's what they want, I do that.
I enjoy getting to know the family, too. It is inexpressible how it feels when a family says 'thank you'. It does mean a lot. It is a great motivator.
It can be 10 minutes before the end of your shift but if there is something a person needs to make them comfortable, you stay to do that. It doesn't matter if the shift is over. As Marie Curie Nurses, we always go beyond what we are expected to do.
It is a privilege to do this job. I will work any day or night of the year. I have four children and they understand if Daddy has to work. We are all proud of each other."