"I was on my own until Nan went to hospital"
We're working hard to stop people like Sara Phelps from fighting to get support when they need it. Her nan, Joan, was struggling with vascular dementia, and it wasn't until Joan's final days that things improved, when Marie Curie Nurses stepped in.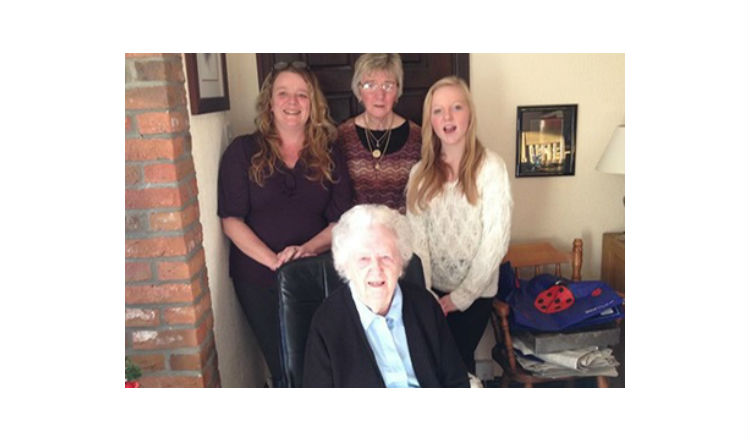 My nan was an only child, and so was I, so there was only me to help when she was diagnosed and I knew she wouldn't want to be in a home. So, in August 2014, I moved from Surrey to Yorkshire to look after her, leaving behind my husband and kids.
I contacted social services when I first moved but was told Nan wasn't entitled to any care. Knowing this we decided, as a family, to pay for a private carer. The carers were nice, but they really weren't experts in dementia care. With her condition she could turn from being a sweet old woman to suddenly swearing at them or getting angry, and they just couldn't understand it.
On my own
With all this, I was on my own from August until we had to admit her to hospital in November 2014. It felt like I was battling for everything and going round and round in circles dealing with social services. For example, I was given a crisis number as I was having a problem managing my nan's aggressive behaviour. So I called it but they gave me a different number that then sent me somewhere else. It was very stressful.
One of the things I really struggled with was the lack of physical help. When Nan had a fall, the carer refused to lift her due to health and safety regulations. So I called 999 but was told it wasn't a priority. I was at a loss, so I called my mum over and together we managed to lift her up, but we both hurt our backs doing it.
How things changed
Finally, after Nan was admitted to Castle Hill Hospital in Hull with a kidney infection, a social worker told me that she actually was entitled to financial support. She also said I could get carer's allowance! I should have got it sooner and it would have been really helpful, but no one told us, even when I'd asked.
Nan came out of hospital with a discharge care package. She deteriorated quite quickly and the GP advised that she needed end of life care. He made the referrals to the District Nurse and I asked him to make a referral for a Marie Curie Nurse too. It all happened in 12 hours which was really amazing. A hospital bed was brought round and the Marie Curie Nurse got the dose of pain relief right and made sure Nan wasn't in any pain.

I have no complaints about my nan's care at the end as she was treated like an individual. But there were times before, when she was being looked after in the community, that it felt like she was a social embarrassment and I struggled to get her the care she needed.
People like Sara and Joan shouldn't have to battle for information, care and support. And that's what we're trying to stop. At Marie Curie, we believe we need to change the conversation about terminal illness, so people like Joan and Sara can get the right care and support at the right time.