Harnessing the reach of social media for palliative care
Dr Mark Taubert , Palliative Care Consultant and Clinical Director for Palliative Medicine at Velindre NHS Trust, guest blogs for Marie Curie about the value of social media for palliative care practitioners.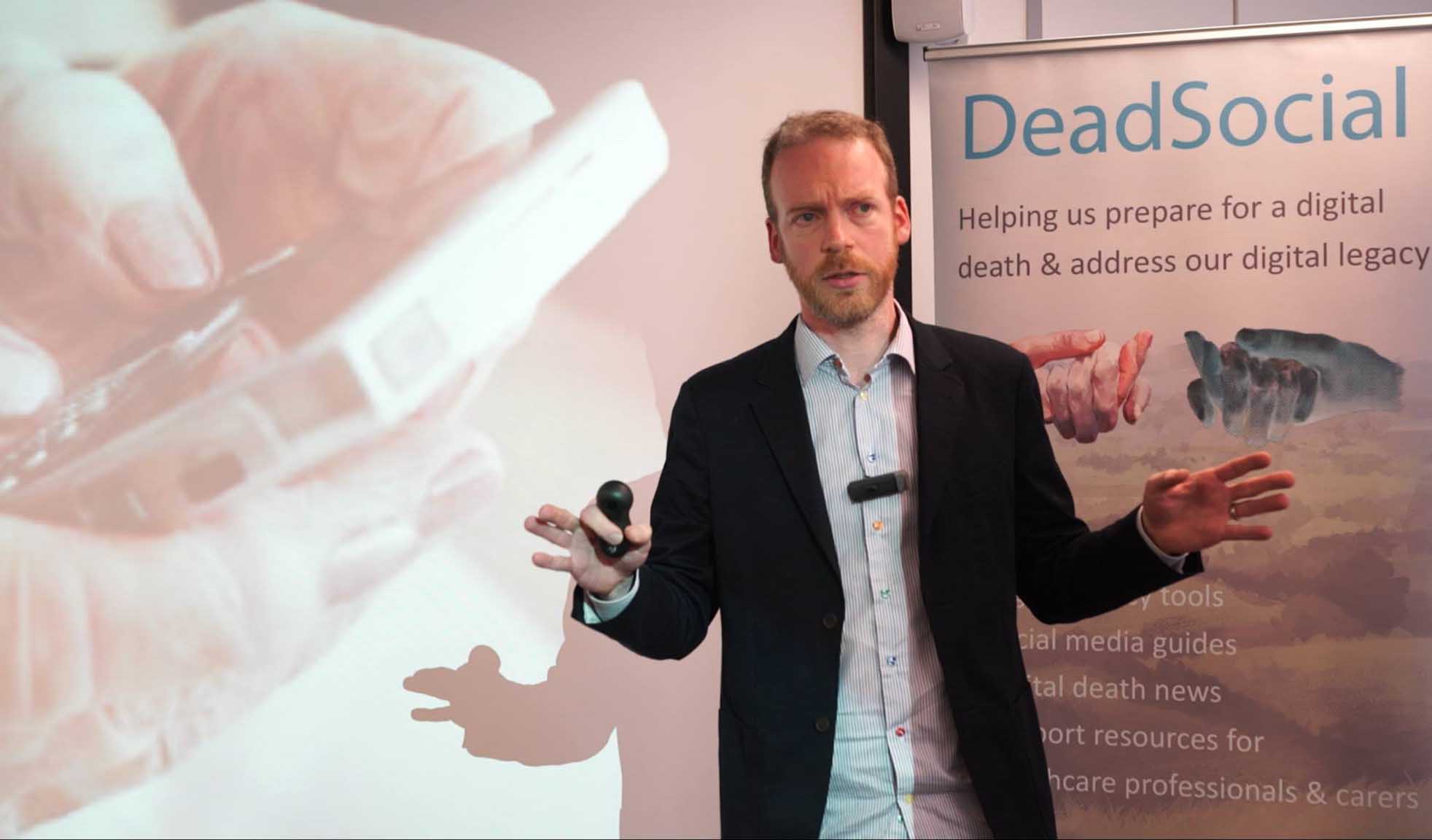 Blogs, YouTube, Twitter, Facebook, Snapchat… Opinions amongst my palliative care colleagues on social media tend to be fairly binary: most people either like to engage, or don't see the point.
Erstwhile described as a passing fad, social media has evolved and developed significantly over the last years. The demise of MySpace prompted many to think that a similar fate would befall other platforms, but Instagram and Facebook appear to be going from strength to strength, with Twitter looking for a more sustainable growth model.
So why indeed bother? We attempted to list some of the benefits and pitfalls in a BMJ Supportive and Palliative Care article in 2014, and many of these are still valid and relevant.
Engagement opportunities
For clinicians, the right choice of social media channel can mean a vast new world of research, journal clubs, live conference information and blogs that they may never have seen otherwise. Furthermore, it is an opportunity to engage with patient bloggers, carers, journalists and policy makers, and this can create valuable dialogue, where all parties can learn.
As for everyone else, social media has become part of everyday life. My butcher posts updates on what is on offer most days, so I can plan a nice stew when oxtail is blogged as a 'special'. On YouTube, you can learn how to put your trousers and socks on properly, or the best way to peel a banana. I recently learned that I had been chopping onions very inefficiently for the best part of 30 year. Oh well!
Digital has become so prevalent in our lives, that we even need to plan about what happens after we die, and social media accounts and passwords should be part of anticipatory legacy planning.
Medical realities
Not surprisingly, many bloggers can only assume what life on the coal-face of medicine and palliative care is like, and they may reach conclusions based on what they hear and read. If you type #DNAR (Do Not Attempt Resuscitation) into Twitter's search engine, for instance, there are many voices that appear far removed from the everyday realities of ward and community medicine that I see.
Some are written, I assume, to create fear and hatred; I will not name any accounts or individuals, but there is a Twitter account that came to my attention in the DNACPR debate, which linked such orders with a conspiracy to save NHS money.
Others are linked with experiences, and these are ones we should listen to and learn from, but equally we must concede that there are always two or more sides to a story. Confidentiality means that healthcare professionals cannot answer debates about certain cases and grievances, so only one side is usually heard.
Informed voices
Yet discussions on topics like Do Not Attempt Cardiopulmonary Resuscitation orders are important, and the informed 'palliative voice' can contribute to this worldwide debate, and increasingly so on social media. I wrote up some thoughts on DNACPR for teaching at my local hospital, aiming it at student nurses and student doctors. It would have remained a valuable teaching aid locally, but for my noticing a few similar topics on the Guardian Healthcare Twitter feed . I contacted the Guardian and they published my words, which were subsequently shared more than 50,000 times and accessed several hundred thousand times. I had not expected this (nor had the Guardian Healthcare editor).
It made me realize that the sorts of conversations we have in medical teaching sessions, in multidisciplinary team meetings or in the doctors' mess, are in fact interesting not just to healthcare professionals but also the (non-medical) wider world. And debate is and should be a natural part of such processes.
There are many types of social media now, to suit all needs, foibles and personalities. As an example, ResearchGate is a useful way to link up with other researchers and gain access to full text articles, otherwise hidden behind pay-walls, and comment and debate can be useful here. I used ResearchGate to answer a few questions I had, and was surprised by the answers and help I got from all over the globe. It saved me a lot of time and work.
Social media channels
This is perhaps a more business-like social media site, compared to the chattier Twitter. Perhaps you are someone who likes to collect lists of interesting links and articles? Then Pinterest may be the only thing you need. A few more tips and thoughts on what may suit you, if you are new to social media, can be found on the BMJ Supportive and Palliative Care Social Media blog especially if you are a researcher or a patient.
Increasingly, we see email as a nuisance. If I am faced with 200 new items in my inbox, my main goal becomes to get to the top of the email tree, and their content (and myriad attachments) is often missed or not sufficiently appreciated. Whereas I approach the same content on Twitter, LinkedIn, ResearchGate or Facebook very differently, perhaps because I am able to chose how and when I interact.
Patients and carers are getting better at obtaining information about their condition, but whether the actual information is better is debatable. Palliative care healthcare professionals should use social media to their advantage, at the very least to keep up with current debate and research, but perhaps also to improve the quality of ongoing debate in the digital world. We all tend to be quite a vocal bunch in our local healthcare settings, so why not think, talk and listen 'big'?
Follow Dr Mark Taubert on Twitter
Follow us on Twitter for news and information for healthcare professionals