Spice up your tea party with these chai custard tarts
by Sonia Chandsure
Blooming Great Tea Party Host
Sonia, who is one of our Marketing Managers at Marie Curie, shares her love of putting an Indian twist into British bakes. If you've been inspired by Sonia's tea party with a twist, why not sign up to throw your own tea party?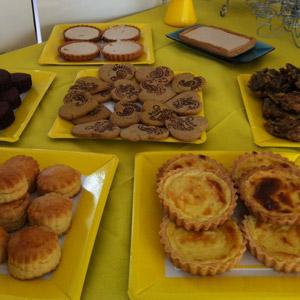 There is a sweet treat for every occasion, especially in the Indian culture.
It's traditional to eat something sweet before your first day at school (Mum would give us soaked almonds) or before an exam (forced to eat a bowl of yogurt and sugar). And you never visit relatives or friends without a sweet gift.
On every happy occasion or festival, like Diwali and Vasakhi, the days before and during are filled with colourful sweet treats and savoury (usually deep fried!) finger food for everyone to share and enjoy. There is no cook book, recipes are passed down the generations, and if you don't get the right balance of salt, chilli and spice right, your mum, nana and every auntie won't hold back and tell you where you went wrong!
It's this tradition that has inspired me to host a tea party with a twist. I'll be taking something traditionally English, like a custard tart, and giving it a twist with spices and flavours. Below is just one of my recipes I will be delighting my guests with at my Blooming Great Tea Party.
Chai custard tarts – makes 4 tartlets
Ingredients
Chai custard
150ml whole milk
50 ml double cream
1 egg yolk
1 table spoon plain flour
2 table spoons of caster sugar
Spices
4 cloves
4 cardamom pods
Stick of cinnamon
Cheats
Sweet pastry – shop bought
Method
First roll out your pastry to room temperature and line each tartlet tin.
Put the milk in a pan a gently simmer with the spices, do not boil, cover with the lid and let all the spices infuse the milk.
In a jug mix together the egg yolk, flour and cream to make a custard mix.
Sieve the spices from the milk and turn up the heat to simmer the milk.
Add the custard milk and keep stirring, to avoid lumps, but be careful not to cook the egg.
Leave the custard to cool before filling the cases.
Bake for 12-15 mins, until the pastry is a golden brown and you have a nice wobble to the tartlet.