Support for people leaving hospital can benefit NHS
With the NHS under severe financial pressure, efficiency is a high priority for the government. Today, Lord Carter has released his report on how hospitals might achieve efficiency savings of £5 billion a year.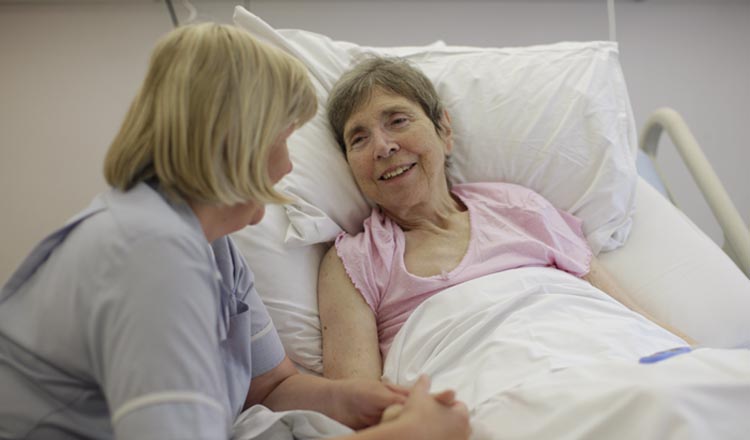 Media coverage of the report has focused on what they call 'bed-blocking'. This is when someone who could receive care somewhere other than hospital (such as a care home or their own home) occupies a hospital bed, meaning that the hospital cannot use it for someone who needs hospital care.
Most elderly and seriously ill people have no desire to be in hospital, let alone 'blocking' a bed, but often they find themselves trapped there because there's no support available to get them back to their own homes or into a care or nursing home.
Carter suggests that in the NHS about 8,500 hospital beds per day are occupied by someone who could be cared for in a different setting – the equivalent of 10 hospitals the size of St Thomas' in London.
Inadequate care
Research suggests that about 30% of hospital inpatients will die within about 12 months, so it is reasonable to assume that many people who find themselves in this situation are in their last year of life.
We know that hospitals are often not the best place for people in that situation. The Care Quality Commission released figures this week suggesting that about 40% of hospitals provide inadequate care for dying people.
However, it would be misleading to simply say that hospitals don't do enough to get dying people out of hospital when they could receive their care elsewhere. The simple fact is that people can't leave hospital unless there is an appropriate care package in place and this is often not the case.
Read more about the future of the NHS and social care
Preventing hospital admissions
Of course, for the NHS to be truly efficient it should not just focus on getting people out of hospital, but on preventing people from going to hospital in the first place. Our Marie Curie Nursing Service has been shown by the Nuffield Trust to reduce both emergency hospital admissions and hospital costs.
There's a lot more the government can do to help. The Department of Health and NHS England insist continually that hospitals must make efficiency savings, but do very little to hold clinical commissioning groups (CCGs) and Health and Wellbeing Boards to account for how they go about prevent emergency hospital admissions, particularly for people with a terminal illness.
NHS England has produced the Ambitions for Palliative and End of Life Care framework that CCGs and Trusts can use to improve the care they give for people at the end of life, but there is no obligation to use this document.
Deepening inequity
Unless that changes, our fear is that the Trusts and CCGs that are good at end of life care will continue to get better, while those that perform poorly will continue to do so, leading to deepening inequity around access to quality care for people with a terminal illness.
The cost of failing to provide care for people with a terminal illness outside of hospital is not just measured in money. For people close to the end of their lives, a two- or three-week wait in hospital when they want to be at home or in a care home is an eternity.
All parts of the health and social care system must get it right for people at the end of their lives, not just for the sake of saving money but also to save people this huge stress, anxiety and heartache.