"Health is something that we all possibly take for granted"
Award-winning actress Tara Fitzgerald is one of Marie Curie's celebrity ambassadors. In a powerful and candid speech to the Fleet Awards on Wednesday 15 March 2017, she didn't shy away from the topic of terminal illness.
Do we all have a tendency to take our health for granted? And how can we help people living with a terminal illness?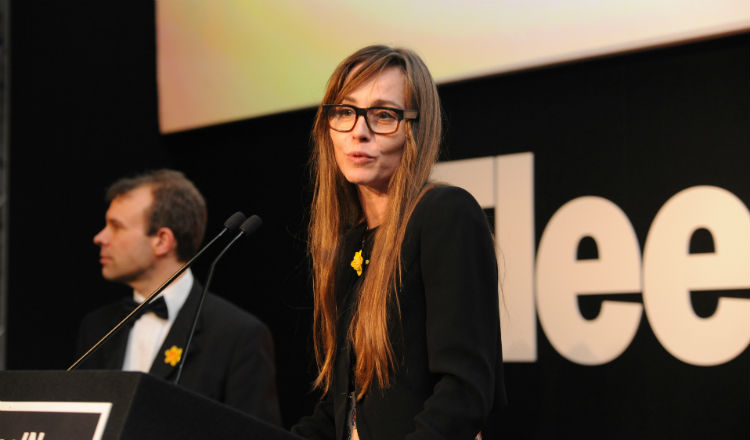 Tara giving her speech at the Fleet Awards in March 2017.
Taking health for granted
"I am lucky, really lucky, in that I have my health. I don't know about you, but when I pray to a benevolent being for things I want (untold riches, fame … etc.) I often overlook my health and yet, as we all know, without it all the other material benefits in life are reduced immeasurably in their value.
"My health gives me freedom. Freedom to wander round this city, to be spontaneous, to take advantage of this weather, for example, this place and its offerings. And the knowledge that I can look after myself in most eventualities. To be independent. Health is something that we all possibly take for granted until, or unless, it's threatened in some way."
Incredible generosity
"Marie Curie is a charity, which means that it depends on the generosity, the philanthropy of people like yourselves to be able to provide the palliative care it does. Free care and support to people with a terminal illness. Free care and support. What a thing to be able to say. And what care and support.
"Nurses who are able, are willing to face all sorts of daily challenges; to provide for their patients a kind of service and attention that is unparalleled, and to maintain all the while, a sense of calm, of humour, of lightness, of grace and dignity and to pass on this lightness and dignity to the people in their care.
"To give them a sense of safety and constancy, when their world, generally speaking has become the opposite of that - has been turned upside-down by their prognosis and when every day might bring something that feels too challenging to cope with or for which they feel they have no frame of reference. To allow them to be vulnerable."
Getting the most of time left together
"Our nurses and healthcare workers are able to step in and say, 'You are in safe hands.'
"And that they are able to do this in peoples' own homes, so that there is as little disruption as possible to the vital structure of daily life for those who are coping with a terminal illness. Given the choice, most of us would want to die at home, surrounded by the people and the things we cherish most and Marie Curie makes this possible.
"Our nurses offer expert care and guidance for people living with any terminal illness. And their families. To help them get the most from life in the time that they have left. Or left together."
---