"The feeling is better than winning the lottery"
According to Marie Curie Health Care Assistant Alma, caring for people is better than winning the lottery. We were blown away by Alma's attitude towards life, and we think you might be to.
"I really believe in the pebble effect" explains Health Care Assistant Alma. "Everyone you come across is like a pebble, and they cause ripples and you are affected by knowing them."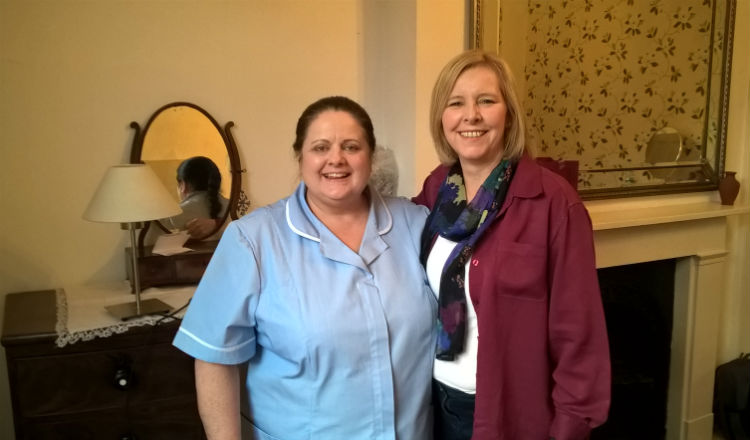 Marie Curie Nurse Alma with Allison, whoses dad Ted was cared for by Alma.
Time is precious
"My Mother was from a travelling family and met my Father who was a fisherman, they met whilst picking potatoes in a field at a young age and the connection was instant. My Father adored her. Sadly my Father passed when I was 29 with brain tumours and left my Mother a widow, he was only 56. My Mother passed when she was 70 in 2005 with chronic obstructive pulmonary disease (COPD) and I nursed both of them at home.
"My mum was just amazing, she really was. I remember her last night two Marie Curie nurses came. The nurses gave me a look of such understanding – they didn't need to say any words. The look said that time is precious – that we should have that peaceful quiet time with Mum before she passed. I think it's the look I give now that I'm a Marie Curie Nurse, but I couldn't have known that then.
"She passed at home with her family at her side. From that moment though, I knew this was how it should be and that everyone should have that respect and dignity at the end of their lives."
The pebble effect
"My brother John dying changed me. I was 13 at the time and he was nearly 18. He went in for a routine operation but had an allergic reaction to the anaesthetic and he had a heart attack. I was very close to him and it was very tough losing him. I had been a very girly girl, but after he died I put a lot of pressure on myself. I made the decision to join the army. In a way I think I did it because I thought it was a boyish thing to do and as my Father didn't have his son anymore I wanted to make him proud of me and hopefully replace my brother a little.
"I left the army after 24 years and started doing some care at home work. During this time I had the privilege of working alongside the Marie Curie Nurse - Angela Boughey and the District Nurse Lucy. I watched the connection between these two wonderful caring Nurses, they carried out their roles with such kindness, empathy, compassion, dignity and outstanding care. Angela especially inspired me and I wanted to do the same. I said to her: 'It's amazing what you do.' And she said: 'You should apply for a job as a Health Care Assistant with Marie Curie.'"
Money can't buy happiness
"I came to work for Marie Curie in 2014. It's quite ironic really as I had always wanted to be a nurse when I was young – my brother John dying changed that and my life went down a different path by me joining the army. My one of 3 'lightbulb moments', working with Marie Curie has excelled my expectations. It's the best thing I have ever done, after having my son John.
"I am definitely a people person and get a feeling of completeness when I go to someone's house and help them through one of the most difficult times of their lives. When anyone asks how I can do this job I say 'it's not a job it's a calling' and it is definitely a better feeling than winning the lottery.
"I would do it for free."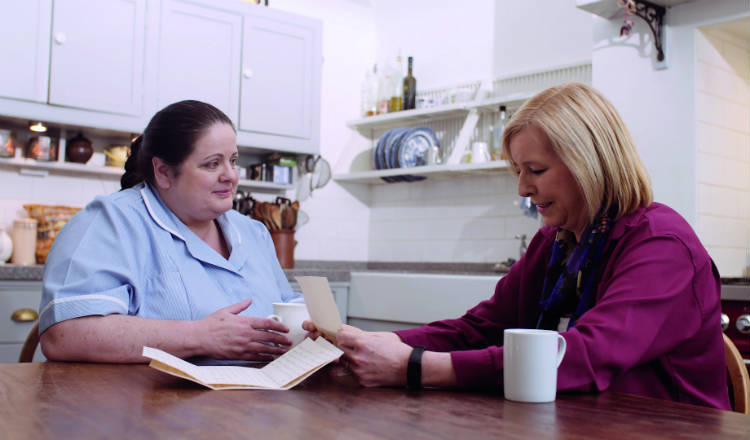 Marie Curie Nurse Alma with Allison, whoses dad Ted was cared for by Alma.
Don't take life for granted
"All my experiences have made me appreciate life – losing my brother, my parents, and there were many people I lost during my Army career, all those losses have had an impact. I appreciate life and I have the knowledge that the service we provide throughout Marie Curie money can't buy!!"
By working as a Marie Curie Health Care assistant, Alma has been making ripples of her own. "Thank you just doesn't seem enough," says Allison Diamond, whose dad Ted was cared for by Alma.