Spurred on by memories of my brother
On difficult days of my Great Wall of China trek, John's face would appear in my mind, pushing me on if I felt it was getting a bit tough. The last part of the wall was very emotional; I found I was crying and speaking to John as I walked.
I was inspired by my brother
In July 2015 my oldest brother, John Foster sadly died from cancer at the Marie Curie Hospice, Belfast. The hospice staff were so kind to John on his Friday visits and to my family at the end.
Around that time, my sister-in-law Karen said she was signing up for the Great Wall of China Trek. I've always loved walking, so decided to sign up too. Plus I felt I could raise funds for a worthy cause at the same time.
Sadly Karen could not complete the trek as she developed sciatica. But I felt I would be fine on my own as I am quite easy going.
My husband thought I had lost the plot. But he also knew I needed to do something to help me come to terms with my loss.
Taking on an incredible challenge
Before the trek I must admit I was nervous but very excited. I never realized how the trek would make me feel once we landed in China, I felt myself filling up!
To get on the wall each day we would walk up steep paths. At times that was a challenge in itself, but the views were amazing and something that I will never forget.
The pictures don't do it justice.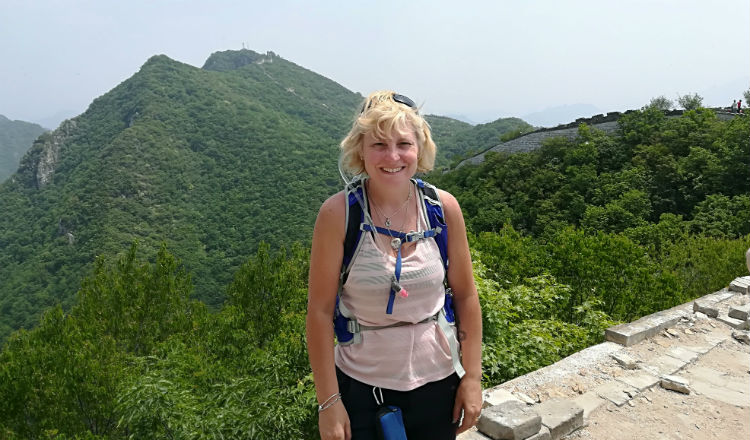 On the Great Wall of China Trek
My family and fellow trekkers helped me through
One day we stopped for lunch and were all given a surprise letter from home. My sons and husband told me how proud they were of me, plus they hoped that by doing this I could get some closure from the loss of my brother.
Everyone was crying; my mind was racing trying to work out how they managed this and how everyone at home kept the surprise from me.
I could not have asked for a better group of people to trek with. At different points on the trek you would have a chance to discover what inspired everyone else to get involved.
The Marie Curie reps and tour leaders could always tell when people needed a wee bit of help and encouragement.
Fundraising with my family
The training that got me there
My training plan began by just doing a wee bit extra walking each day, adding in hill walks. I started with a 2-3 mile workout then increased it to 9-10 miles if not more.
After work each day I set off with my headphones on, listening to the radio; my speed depended on which tunes I listened to! I would plan days with family members and set out walking to their house, each time trying to beat my time from before.
I bought my walking equipment early, my boots, backpack, and walking poles, so I could get used to them. I found the water bladder quite a good idea, so I used one in my training to get used to carrying the weight as I would along the wall.
How I fundraised
I made a list of ideas to start and got help from my friends and family
I sent letters to different shops to ask for support
I sent a letter to my head office asking for sponsorship
I held a disco with the help of my family. A local club allowed me to use their venue and the DJ donated his time for free. My brother printed tickets and posters and sold tickets
My son tweeted a group he liked and they donated a signed LP which we sold
We arranged bag-packing at the supermarket.
I would encourage everyone to sign up for an overseas challenge. You'll raise money for such a worthy cause and make friends for life.