Nurses say they don't have enough time to care for dying patients
A survey has revealed that over two-thirds of UK nurses feel they don't have sufficient time to provide high quality care for patients who are dying.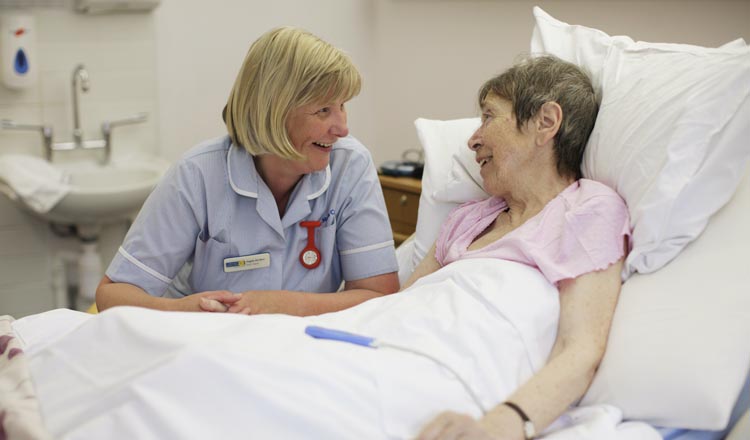 As a nurse, I know how important it is to get the balance right between having the right amount of time to spend with each patient and the pressures of a busy ward, looking after many patients who are often extremely poorly and critically ill.
It's really difficult knowing that you need to make sure the patient in the next bed gets their drugs or ready for theatre when a dying patient and their family need time to talk through their worries or concerns.
It makes nurses feel that the standard of care falls below the level we know we are capable of delivering.
Working with Nursing Standard
, we surveyed 996 registered nurses and healthcare assistants from across the UK about the care they provide for people in the final months, weeks and days of their lives.
The findings show the challenges of providing high quality care to people towards the end of their life in the extremely pressured NHS:
More than two-thirds (67%) surveyed told us they did not have sufficient time to provide high quality care to those dying patients.
They identified other significant barriers to providing high quality care, including staffing levels (68%), lack of specialist palliative care support (33%) and lack of community services, such as services in patients' homes, care homes or hospices (33%).
Worryingly, more than 40% of the nurses and healthcare assistants surveyed said they had not received any specific training in end of life care, even though more than two-thirds said this was part of their role.
However, over half said they were fairly confident in talking to patients about their needs and wishes towards the end of their life, and a third said they were very confident.
More than half of nurses (59%) had "often" seen dying patients stuck unnecessarily in hospital, due to delays in funding and community provision to support them. Only 6% had never seen this happen.
Several respondents highlighted that trying to provide great nursing care in this environment is extremely stressful and frustrating. However, it is patients and their families who are bearing the real brunt of these pressures, at what is already an incredibly difficult time for them.
As some of our respondents pointed out, addressing these issues means more staff are urgently needed so that nurses have time to care – but it also means making sure those registered nurses and healthcare assistants have the time to develop their skills, and access appropriate and timely training and support from the very start.
By sharing our expertise and working in partnership with others, we can help build capacity and ensure that staff feel more confident and better able to deliver high quality care that meets people's wishes and needs at the end of life.
Caring for people at the end of life can be emotionally draining but also incredibly rewarding. We must give nurses the chance to provide the best possible care for their patients.