What does it take to deliver high-quality end of life care?
In July 2016 the government published its response to last year's Review of Choice in End of Life Care. The response outlines seven key areas for improvement to ensure the government meets its commitment to high-quality end of life care. One of these areas is 'we will ensure we have the right people with the right knowledge and skills to deliver high-quality personalised care'.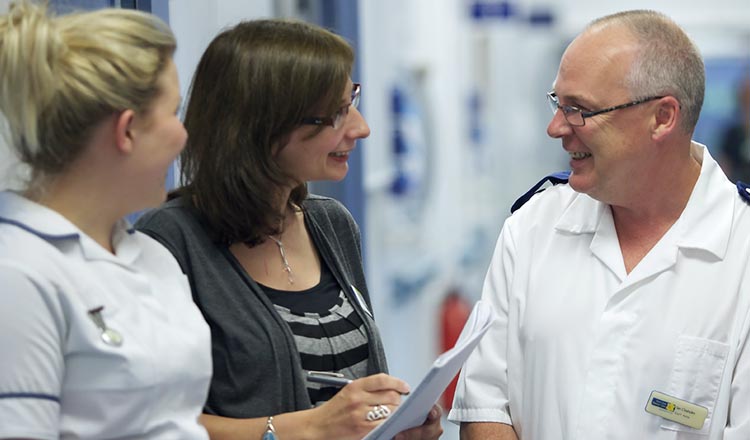 Whatever the role and wherever the setting, good end of life care is everyone's business. Doctors, nurses and other professionals need continuous education and training so they feel prepared and confident when delivering end of life care.
High-quality, personalised end of life care means ensuring that the holistic needs of patients and their families are met just as well as their physical needs. It also requires a compassionate approach and the ability to see each patient as an individual.
We asked a range of professionals involved in end of life care about their experiences caring for people living with a terminal illness, the importance of training and what they believe is needed to deliver high-quality care.
Ian Bailes, Anaesthetist
"As an intensive care doctor, most of what I do involves invasive treatments aimed at prolonging life. But sometimes that does not suit an individual patient's needs. For doctors and nurses not familiar with end of life care, it can be daunting. So, during my time at the Royal Marsden, we developed a targeted educational program, working closely with the palliative care team.
"We designed a questionnaire for the intensive care doctors and nurses, to identify the areas they needed most support with, such as identifying distress in patients or having sensitive discussions with family members. We developed an educational programme to address these issues and were thrilled with the uptake and enthusiasm from intensive care staff. I was particularly impressed at how everyone pulled together as a team: doctor or nurse, physiotherapist or dietitian, it didn't matter. I genuinely believe patients at the end of their life will now get better care as a result of cross-specialty educational programs like this."
Catherine Millington Sanders, RCGP / Marie Curie National Clinical End of Life Care Champion
"As a practicing GP in Surrey, caring for people with a terminal illness, and those important to them, is still one of the most rewarding aspects of my work.
"I was recently asked to do a home visit to a new patient – a 92-year-old Polish lady whose daughter had called to say she had a cough. Her devoted daughter, who was her mother's full-time carer, told me her mother had been bed-bound for two years following a stroke. She had been relatively stable with dementia for several months, but had suddenly deteriorated.
"The daughter hadn't wanted to talk through 'planning discussions' before but recognised her mother was seriously ill and probably dying. She said she was 'ready now'. Supporting the daughter through conversations around her mother's plan of care – including a DNACPR [do not resuscitate] discussion – was crucial to enabling a 'good death'.
"I had at least two other places I needed to be during this time but I knew that being able to take the time needed to provide support through the difficult conversation ahead would be crucial in delivering high-quality care. Compassion is a key component of delivering good care, and having time to do that is paramount."
Cliff Shanganya, Chaplain, Marie Curie Hospice, Glasgow
"Spiritual needs can be an important part of a person's journey at the end of life; my recent training in professional practice and practical theology chaplaincy work has helped me understand this. I believe it is important that both healthcare chaplains and social care staff in all settings are comfortable supporting these needs, and that there are many ways to create a space for the person to express and explore what is happening to them at this time.
"This kind of support should be extended to carers, family and friends who may find it difficult to come to terms with a loved one's diagnosis and may struggle as their illness progresses until their death. Bereavement services are an important part of helping the person to understand what's happened and, in time, to move on. The most important thing is that one should feel his or her spiritual needs are being taken care of.
"It is also very important that every patient's assessment is documented so that everyone involved in a patient's care is aware of his or her cultural, spiritual or religious needs."
Tracey Meaning, Healthcare Assistant
"As a healthcare assistant, I am privileged to be part of a team that supports patients and families who have chosen their own homes as their place of death rather than a more clinical setting such as a hospital or hospice.
"Usually patients and families have practical concerns and require reassurance and action. They are always experiencing a wide array of emotions, and our role is to be alongside each and every one of them.
"Although it might appear that a terminal prognosis is full of doom and despair, my experience is that it is more often filled with moments of extreme human kindness, compassion and love. Families interact in ways they may never have thought possible. Along with the inevitable sadness of letting go, many beautiful memories are made and these are what serve to ensure a more peaceful passing for the patient. They can also sustain the bereaved and lighten the heaviness of the grieving that so naturally follows.
"Through my experiences working in palliative care I have seen what the results of a 'good death' can be. It affects everyone involved and the opposite is true if the process is not guided with care and compassion – the harmful effects last generations, creating psychological and emotional turmoil that can potentially permeate every aspect of a bereaved person's life."