What a difference a year makes? Not when it comes to improving end of life care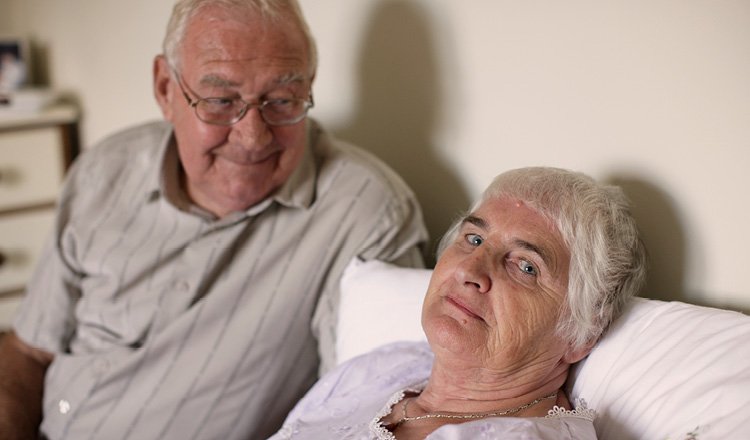 Today, the Government has published a one year progress report on its national commitment at the end of life.
Released last July, this comprehensive strategy promised that "every person nearing the end of their life should receive attentive, high-quality, compassionate care, so that their pain is eased, their spirits lifted and their wishes for their closing weeks, days and hours are respected."
We couldn't agree more. But in reality, today's update shows progress has been disappointingly slow. So what's the hold-up?
The plan: ease the pressure on hospitals
The Government outlined their intention to "implement new ways of delivering effective end of life care in community settings", which would ease some of the pressure on hospitals dealing with dying patients, who no longer need, or wish, to be there.
This was encouraging news for people living with a terminal illness, and their families. Being "stuck" in hospital when they would prefer to be at home or in a place of their usual residence such as a nursing home can be extremely distressing. Putting more resource into community care will allow for a more patient-centred approach, structured around their needs and wishes at the end of life, not instead led by availability of services.
What's more, getting people out of hospital for their final weeks or days of life would help cut costs significantly for an already over-burdened NHS.
The reality: without funding, it can't happen
Frustratingly, the Government has continually failed to commit to the recommended funding to improve end of life care services making any real impact on where care takes place extremely difficult to achieve.
Without the appropriate funding, the Government can't fully implement its proposed national commitment, and will instead leave large chunks of the system untouched. Ultimately, this means people dying in places and circumstances they would not want to be in, despite a pledge last year to do otherwise.
We need to fix things – fast
At the moment, the national commitment to end of life care is failing the very people who need it the most.
Since the report was released last year we estimate that almost 230,000 people will have died in hospital in England, with a large percentage of those affected by a terminal illness not wishing to be there.
The Government has a duty to protect those that are most vulnerable, and to show support to the services that care for them. And with the number of people who will need end of life care growing by the day, there's simply no more time to lose.
That's why we're urging the Government to take action
Today, Marie Curie is calling on the Government and the new Minister for end of life care, Jackie Doyle-Price, to do more to implement the policies they set out over a year ago.
We need to prepare for increasingly complex demands in palliative and end of life care. And that means there have to be high-quality alternatives to providing end of life care in hospitals. The NHS already has an overstretched workforce. Improving end of life care could dramatically improve not only the experience for people affected by terminal illness, but the systems that care for them.
They, and their families, deserve action now.