Marie Curie researcher nets European award
Dr Bridget Candy (pictured below left) is a researcher at the Marie Curie Palliative Care Research Department at UCL.
This week she is being awarded the European Association of Palliative Care's (EAPC) Post-Doc Researcher Award 2016, recognising the contribution of her research specialty in palliative care.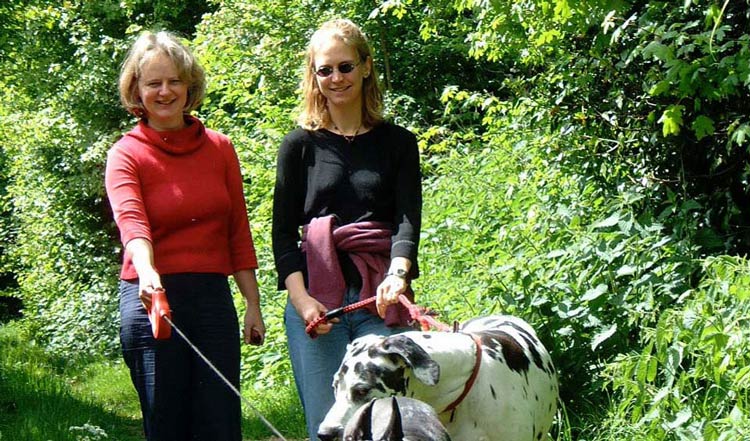 While working as a nurse, I had so many questions around whether the care I was providing was the best approach to helping those in need. That's why I made the decision to become a researcher – but my quest to answer this type of question has only ever been answered in part.
Since 2007, my research has been around seeking clear information and reliable evidence about the benefit of certain treatments and services in palliative care. For example, this has included the safety of a drug treatment for delirium, or an intervention for overcoming sexual dysfunction following cancer treatment.
I have also been looking at the method of systematic reviewing and ways of adding the patient's voice to help understand why some interventions work better than others – which was also the focus of my PhD thesis, funded by Marie Curie.
Palliative care research award
I am honoured to be the holder of this year's EAPC Post-Doc Researcher Award which recognises the work of palliative care researchers and doctors who have made or are making an outstanding contribution to research and clinical practice. I certainly did not think I would win!
At this year's EAPC Congress I will present an overview of my research which includes some of the challenges in undertaking systematic reviews in palliative care and ideas for new review methods.
Often there are a limited number of studies evaluating treatments and by identifying evidence gaps the conclusion of my reviews can help to inform research agendas.
Research priorities
This includes for example, the Palliative and end of life care Priority Setting Partnership (PeolcPSP), initiated by Marie Curie with the James Lind Alliance. The partnership worked with patients, carers and health practitioners to identify questions about palliative and end of life care where there is limited research evidence to help answer them.
For certain treatments, identification of limited evidence has called into question its place in practice. There has been though an increase in research activity for some treatments and support relevant to palliative care. These include from my own review experience in treatments for constipation and sexual dysfunction.
Collaboration
Despite this, I often question whether I have access to all the evidence. While information is increasingly available online around what studies have been started, for a researcher carrying out a systematic review the challenge is to find out whether these studies have been completed and their results are available.
This award not only recognizes my contribution it provides a great opportunity to focus more on the contribution of systematic reviews in palliative care. The award will give me confidence in my research endeavors and hopefully provide more opportunities for collaborative research.
The European Association of Palliative Care (EAPC) Congress is taking place 9-11 June in Dublin. Visit Marie Curie at stand 12 for more information about the research we fund.