Where we'll be on race day
When it comes to the Great North Run, we can't wait to cheer you on and meet you on the big day. Check out our information below to see where you can find us.
Our Team Marie Curie cheer point
Not only will we be along the route to cheer you on, we'll also have a marquee space located in the charity village!
When it comes to our cheer points, we'll be hard to miss! We'll be the loudest cheerers on the route – plus we'll be covered in yellow, so you'll definitely spot us! Our first cheer point will be located on the Tyne Bridge so just as you set off between mile 1 and 2.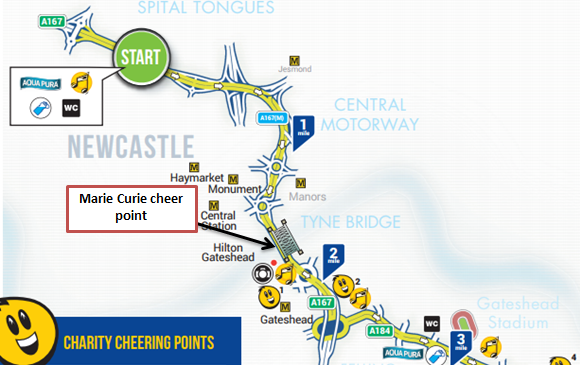 Our next cheer point will be located just after you approach mile 4, in Heworth. Again we'll be decorated all in yellow so definitely should be hard to miss.
If your friends and family would like to join us, please do encourage them to do so. The more the merrier! We'll be cheering you on from until around 1pm and there'll be plenty of cheer materials waiting for them if they would like to come along.