Spokespeople
Dr Jane Collins
Chief Executive
Jane became Chief Executive of Marie Curie in September 2012 and has overall responsibility to the Council of Trustees for the day to day operation of the charity including its strategy and policy.
Before this she was a consultant paediatric neurologist at Great Ormond Street Hospital until becoming its Chief Executive in 2001. She combined this role with running the hospital's charitable arm.
Related:
Marie Curie Blog: Hospital care for people with terminal illnesses must improve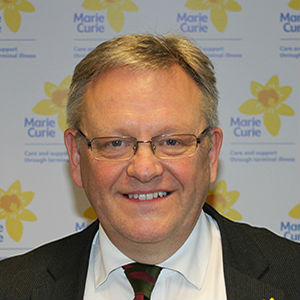 Professor Bill Noble
Medical Director
Bill is the charity's lead on medical matters, clinical governance and palliative care research. Bill oversees clinical governance of all caring services including the charity's nine hospices and the Marie Curie Nursing Service. Bill is also in charge of the charity's research strategy and contributes to quality and clinical developments.
Bill practised as a GP and hospice doctor for 16 years before taking up a post as Macmillan Senior Lecturer in Palliative Medicine at the University of Sheffield in 1996. He has worked in end-of-life care in all settings for 30 years. His clinical work as a consultant physician in palliative medicine informs his research on care in the community.
As chairman of the Association for Palliative Medicine of Great Britain and Ireland from 2007 to 2010, Bill co-ordinated a strategic review to take account of developments in the field of palliative care and the changing role of the specialty.