Nightrider Liverpool FAQs
Have a burning question about your upcoming event? These FAQs should cover everything you need to know. If there's something we haven't answered please feel free to get in touch ― at events@mariecurie.org.uk or on 0845 052 4184.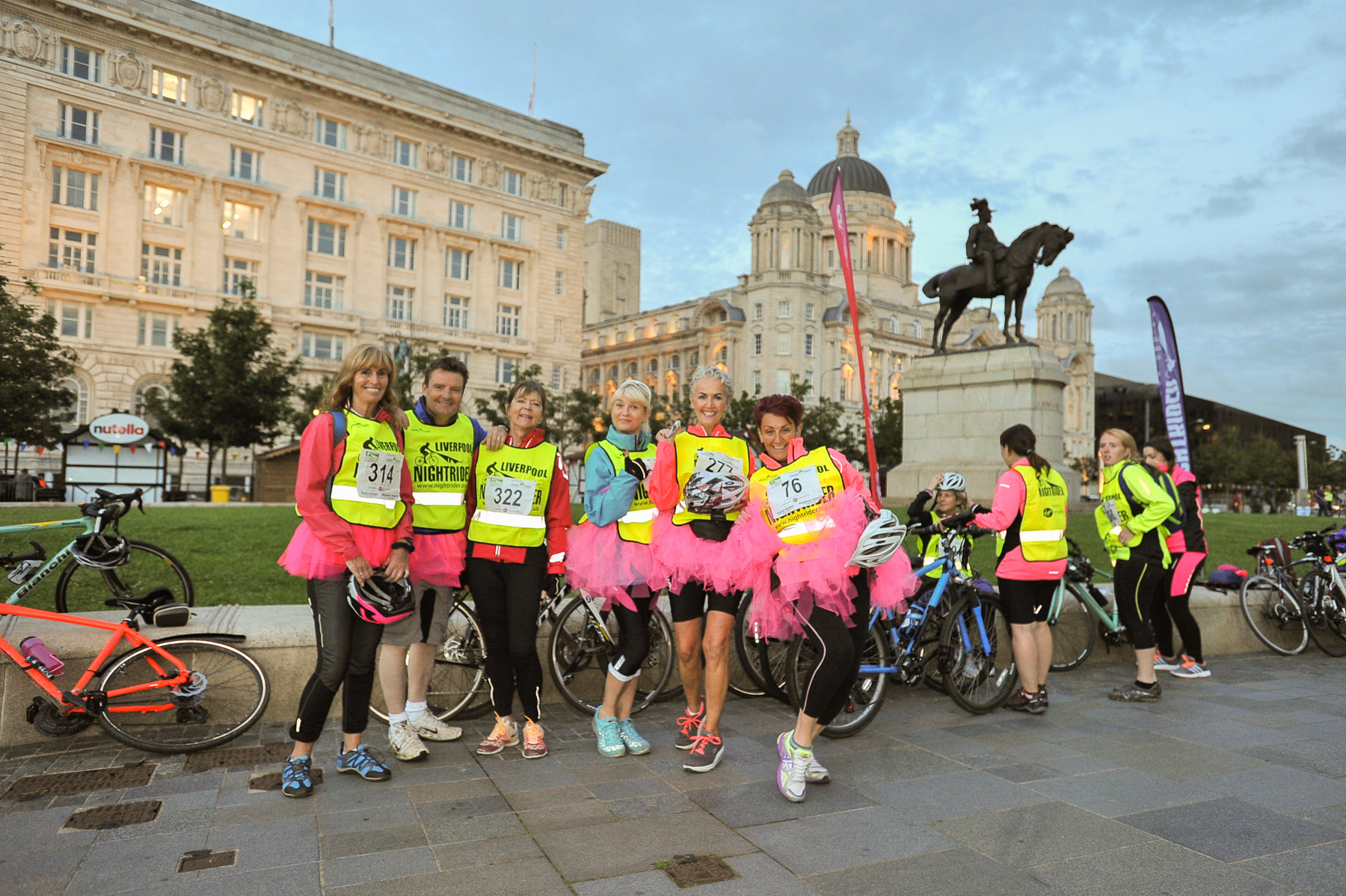 Event date
This Liverpool cycle is taking place over night on the 14-15 July 2018.
What if I become injured or need to cancel my place?
Please contact our supporter relations team at events@mariecurie.org.uk or on 084 5052 4184.
When will I receive my official race day information?
The race information will be emailed from the event organisers, Classic Tours , about three weeks before the event date. The email will include all rider information.
When will I receive my race number and timing chip?
You'll need to collect your number and timing chip form registration on the night. Please ensure you leave enough time to get your pack. We recommend that you arrive at least one hour before your wave starts.
What landmarks will I see along the route?
Queensway Tunnel, Albert Docks, Echo Arena, Empire Theatre, Penny Lane, Break at Alder Hey Children's Hospital, Aintree, Goodison Park, Anfield, Princes Dock, Royal Liverpool Golf Club.
Will the roads be closed?
No, you will be cycling on open roads. The route is fully signposted. You will be following the signs and will be able to cycle at your own pace. Please also note there are no marshals en route. You'll need to be confident cycling in traffic.
What's in my pack?
Event number — must be displayed on your back during the event
Helmet number
Timing chip.
What's included as part of the event?
As part of the event there is:
fully signposted route
GPS file of the route (nearer the event)
break stops every 20km, snacks, water
hi-vis vest (you will receive this on the night of the event)
cycle number and bike number
medal
free breakfast at the finish (bacon or veggie sausage and a hot drink)
bicycle mechanics
first aid support
security staff, central control number to deal with any problems.
What's not
included?
Please be aware that the following is not included:
bike and bike insurance
cycle helmet – please note that it's compulsory to wear a helmet for the duration of this event
any cycle parts that the mechanics might need to use – please ensure you bring some cash
energy drinks and fresh fruit snacks – please bring any snacks or energy drinks with you.

What happens during registration?
During the registration process, you'll be required to show a form of photo identification in order to receive your event pack. If you're unable to attend registration and wish to send a friend or relative to collect your event pack on your behalf, they must bring a form of photo identification for themselves as well as a signed letter of authorisation from you confirming that they can collect your event pack.
When does the race start?
You choose your start when registering online, subject to availability. You'll sign up to a start wave and will be set off in groups of 50 every two-three minutes.
If you're a slower cyclist or want to take in the sights as you cycle we recommend that you choose an earlier start time. If you're an experienced rider we would appreciate you choosing a later start time to allow other riders the chance to cycle the route with less time pressure. Please note that once you've selected your start time you won't be able to change this later on.
Where will I finish the event?
You will complete the 50km or 100km at the Liverpool Waterfront. There will be breakfast and a hot drink waiting for you at the finish.
When do I receive my Team Marie Curie Cycling Kit?
When you've raised £350 you'll receive a Marie Curie cycling jersey. If you raise over £500 you'll earn the matching bib shorts. These will be mailed to you in the post.
What will I receive as part of Team Marie Curie for Nightrider?
As part of the team you'll receive:
access to our Cycling Zone with training plans, tips and advice
regular e-newsletters with fundraising support and advice to help you smash your target
on-the-day support from our dedicated events team
a jazzy Marie Curie cycling jersey when you raise £350 and the matching bib shorts when you reach £500
on-hand support from our fundraising team.

General event information
What's the event all about?
Liverpool Nightrider will be back for it's 3rd year in 2018! Every year we make some tweaks to the route but we've planned the routes to include as many of the highlights of Liverpool you'd expect, and some little treasures you may not know about. It really is a unique way to explore this beautiful city.
How far is the event?
There are two distances to complete, 50km and 100km. if you can't complete the 100km, you can change down to the 50km on the evening.
Can I join as part of a team at the same start time?
If you'd like to cycle with your friends and/or family our best advice is to agree a timeslot with them. You'll then need to each register individually, choosing that same slot. It's very important that we know who is on the road on the night of the event.
Each start wave has 300 people registered on it and you'll start in groups of about 50, every two minutes. To cycle with your friends on the night, just stick together and we'll enable you to start off together.
What's the age limit?
You must be 18 years or older on event day to take part, if you are younger and feel you can complete the distance please contact the event organisers.
What if I need to update my personal details?
Please contact the event organisers at nightrider@classictours.co.uk and also Team Marie Curie at events@mariecurie.org.uk or on 0845 052 4184.
What should I do about travel and accommodation?
Specific travel information will be sent closer to the event. We recommend that you plan your journey to and from the Liverpool Waterfront in advance so you are well aware of any restrictions you may encounter.