Snowdon UK Trek 2018
Information
Event type

UK treks and walks

Date

Time

–

Minimum fundraising

£200

Registration fee

£30

Minimum age

14 years.
Under 18s must be accompanied by an adult.

Contact

Location

Legacy Royal Victoria Hotel
Llanberis
Gwynedd
LL55 4TY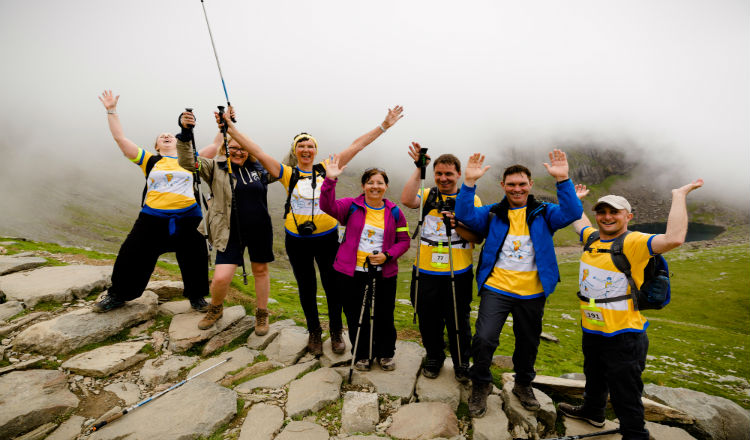 Want to experience Snowdon's breath-taking, rugged scenery? By taking on Wales' highest mountain, you could help us provide care for people living with a terminal illness and their families.
If you take on our nine-mile Snowdon trek, you'll navigate up a winding route to the summit. Be prepared for a steady climb on a mixture of rough and well-kept pathways.
At 1,085m (3,560ft), you'll be able to admire the breath-taking views of the Snowdonia National Park at your feet with Anglesey and the Irish Sea in the distance.
Is this trek for me?
A team of experienced mountain guides will be there to show you the way.
You'll need a good level of fitness with prior training to take part in this challenge. You should be able to walk over varied terrain for between five and seven hours, including steep inclining and declining pathways and steps. In the months leading up to your trek you should also have done two to three walks of a similar length.
Training tips will be provided.
This challenge is self-led. You'll be provided with direction on where to walk and there will be a team of mountain guides along the route to provide assistance and check you're staying on course at all times. If you wish to walk with a guide please inform the events team on 07545 419 569 before the day of the event.
Supporting people living with a terminal illness
In 2017 our UK treks raised over £240,000. Every trekker helps us give people living with a terminal illness the care they need. So they can make the most of their last days with those they love.
Why trek for Marie Curie?
By taking on this challenge for Marie Curie you'll help us care for more people living with a terminal illness. When you join us you'll get:
training hints and tips to get you ready for the big challenge
loads of fundraising ideas in your welcome pack
a brightly coloured Marie Curie trekking T-shirt
a finisher's medal and refreshments
professional mountain guides and check points along the route
a chance to experience some of the UKs most beautiful scenery.
More information
Registration fee: £30
Minimum sponsorship: £200
For more information about the 2018 Snowdon UK Trek, call the events team on 0845 052 4184 or email events@mariecurie.org.uk.
Our hiking events are delivered in partnership with Eight Point Two , providers of adventure challenge events.
Frequently asked questions
Can you tell me more about the trek?
What is the distance of the walk?
Approximately nine miles, climbing to a height of 3,199ft.
How steep are the climbs?
The ascent to the summit is a steady climb on a mixture of rough and well-kept pathways.
How long does it take to complete the walk?
This will vary enormously depending on the weather and your fitness level. As a rough guide the average completion time of this event is approximately seven hours. Please note that walkers who have not reached Clogwyn Station Bridge by 1pm (approx. 1.5 miles from the peak) will be asked to return to base and will be unable to summit Snowdon.
Will I need to walk in a group?
This trek is self-led. If you wish to walk with a guide please inform the events team atevent.delivery@mariecurie.org.uk before the day of the event, so we can make arrangements for you.
Are there any toilet facilities en route?
There are no toilet facilities en route to the summit of Snowdon. There is a visitor's centre on the summit with toilet facilities but in adverse weather and high winds the centre and its facilities will be closed. There are toilet facilities at the registration point where you will register in the morning and return to after the challenge, so please make use of these.
Can I bring my dog/s with me on the walk?
We ask you not to bring your dog with you on this trek.
What happens upon completion of the event – do I need to sign back in?
Yes. Every participant must check back in at the registration point whether you have completed the walk or retired early from the event so that we can account for all participants and ensure your safe return.
What happens if I need to retire from the event?
We have full radio communications alongside the guides that will be along the route, as well as mobile first aid cover. In the event of a problem, please alert your nearest guide and arrangements will be made for your care or transport back to the registration point.
If you're accompanying someone 14-17 years old, they will have to leave the event with you.
Could weather stop the event?
Our outdoor pursuit company regularly monitors the weather along the route in advance of (and during) a trek. They'll advise us of any safety concerns. Should we be advised to cancel the event, all participants would be contacted.
Will I need to know how to use a compass and map?
This trek is marshalled by mountain guides and is along a way-marked route. You will therefore not require a compass or map to complete this trek.
How do I get there and register?
What time do I register on the day?
Registration will be open at the Royal Victoria Hotel from 7am until last registrations at 8am. You are welcome to register at any point during this time, however if you're a slower walker please make sure you register between 7am – 7.30am to give yourself the best chance of reaching the summit.
Will I still be able to take part if I am late arriving at registration?
Because of the length and difficulty level of this walk, and in order to manage it efficiently and safely, the registration window is very strict. Registration will be open for one hour with no exceptions so if you arrive after this time we will not be able to register you.
What's the best way to get there by public transport?
If travelling to North Wales by train, you will have to arrange further local transport in the direction of Llanberis. The closest train station is Betws-y-Coed, which has connections with Manchester Piccadilly and London Euston via Llandudno Junction. Trains from London Euston takes just under 4 hours, trains from Manchester take 3 hours. Please note that there is a half hour drive from Betws-y-Coed to Llanberis, where the trek starts from. Buses don't run between the two towns early in the morning, so you will need to book a taxi if you are not driving.
Will there be somewhere to park my car?
Yes, your Welcome Pack contains a car parking pass which allows a reduced rate of £6.00 for the car park called 'The Snowdon Car Park' adjacent to the Royal Victoria Hotel in Llanberis. The entrance to the car park is opposite to the Snowdon Railway, just below the Hotel lawns.
There are other car parks in Llanberis, but please ensure you use a dedicated car park as street parking or curbside parking in Llanberis is very difficult and can cause problems with organised events. If you have arranged accommodation in Llanberis, you will be able to leave your car there for the day.
Walkers and other visitors must safeguard private property, including all personal belongings. No responsibility can be accepted for loss or damage.
Can other walkers sign up on the day?
No. We must comply with the National Guidelines on this type of activity and undertake to manage this event responsibly in terms of the impact it has on the historic landscape. You will therefore only be able to take part on the day if you have registered in advance.
Calls to 0845 numbers cost no more than 7p per minute plus your phone company's access charge.