Rachael's story
When Rachael Firth signed up to take part in a triathlon for Marie Curie, not only was she looking for a real personal challenge but she wanted to give something back to the nurses who cared for her friend.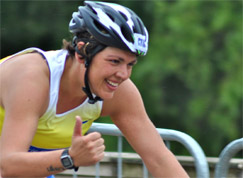 "I signed up for a triathlon because it was something ridiculous to do, but it ended up changing my life. I wasn't in the best of shape – I used to smoke and drink – but on 4 January 2011 I stopped living like that. Literally overnight, I started getting fit and healthy in preparation for my first Olympic distance triathlon. Before I decided to do a triathlon, my life was pretty inactive. The first few months of training were awful, but after that I felt brilliant. It was the best thing I ever did.
"A close friend of mine received respite care in a hospice before she died, and I was in awe of the sort of work they did there. I wanted to give something back to the Marie Curie Nurses who make that possible for so many people."
Rachael raised over £1000 for Marie Curie Nurses and has just opened her own Personal Training company RFtraining. To contact Rachael, you can email her on Rachael_Firth@yahoo.co.uk.