Fiona's RideLondon story
On the 31 July 2016, Fiona Gordon took on RideLondon, cycling 100 miles from Queen Elizabeth Olympic Park through the Surrey hills and back. With some training and the support from all of her friends and family she conquered the 100 miles and raised an incredible amount for Marie Curie. We caught up with Fiona to know a little more about why she took on this challenge.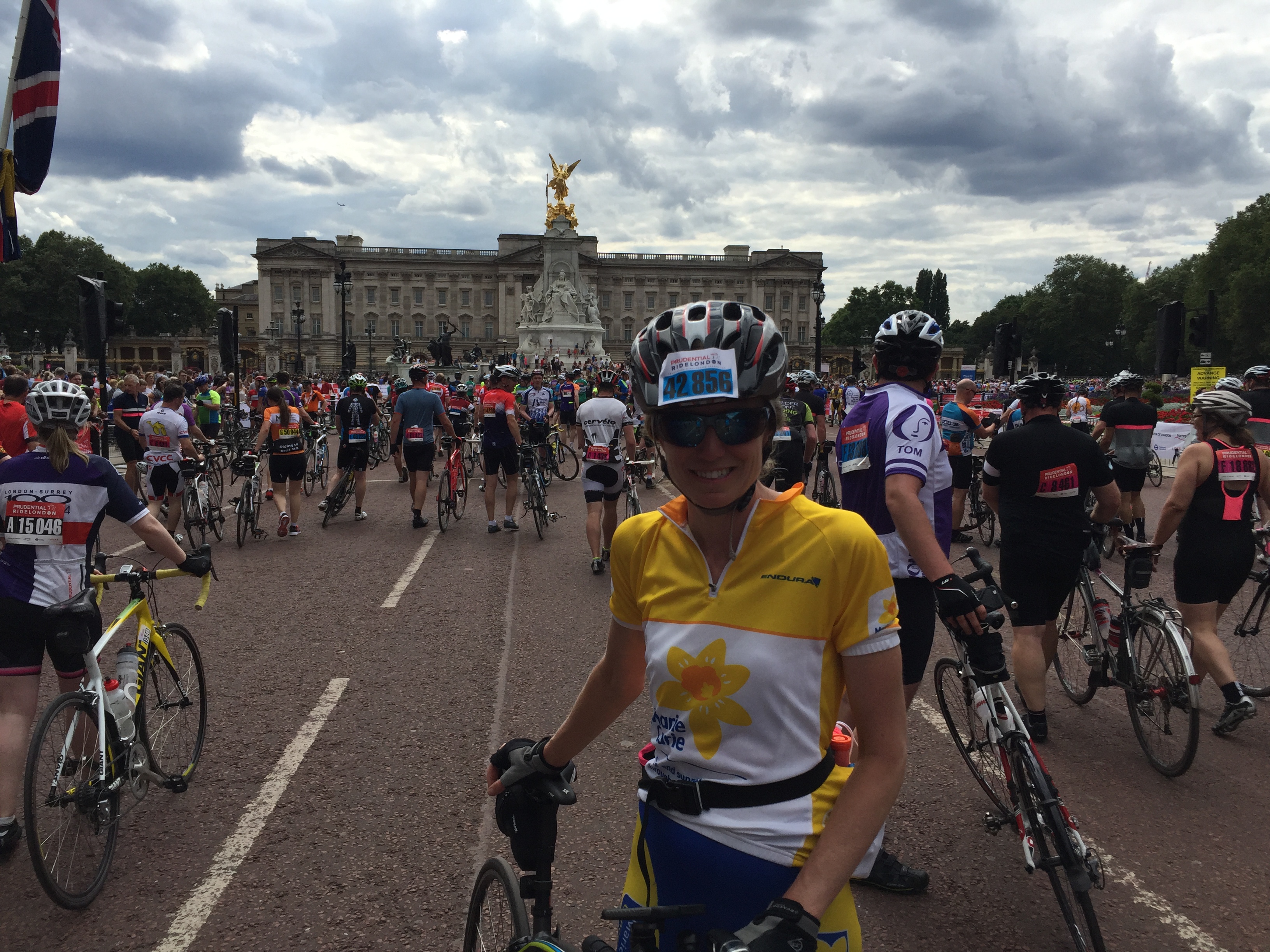 I took part in RideLondon in memory of my Mother, Mary, who died of breast cancer 25 years ago this January coming. She was not only the most wonderful mother to me and my two brothers but she was a strong and determined lady and I know if she was in my shoes she would've taken on this rather mad challenge. For all who knew her she had a wonderful streak of 'way out kindness'. Her strength and determination was with me throughout the ride.
My family have so much to thank Marie Curie for. In the last week of her life, my mum suddenly needed care at night. One of her wishes was to be able to be at home. We were incredibly lucky to be able to have a wonderful Marie Curie Nurse who came for several nights in the last few days of her life. She made the most enormous difference to all of us. She cared for my mother with such gentleness and kindness but she also sat up talking and listening to her for a lot of the night about all the worries that she had and how we would all cope (As a mother now myself I can really imagine how she must have felt).
I know this meant that Mummy could find that peace that perhaps she might not have found at the end of her life. It is often difficult to talk to close family about the prospect of dying as it is just too frightening and upsetting but I believe this enabled her to feel that we would all be safe.
This lovely Nurse cared for us all. In the morning when she had been up all night caring for Mummy, she still had the kindness to sit and talk to us. She was not with my mother the night before she died but when she heard that morning she came straight to the house and looked after her and made sure we were all ok.
The kindness and care that this Marie Curie Nurse gave my mother and all of us will stay with me always.
Sometimes it is not until the last minute that one realises that you will need extra care and to be able to find that care in a hurry is not always easy. Marie Curie Nurses really do give "light in the darkest hours".