How I did my fundraising
John and Jacqui Carney took part in the Prudential RideLondon 100 as part of Team Marie Curie last summer. We caught up with John to see why he chose to ride for Marie Curie and how he got on with reaching his fundraising target.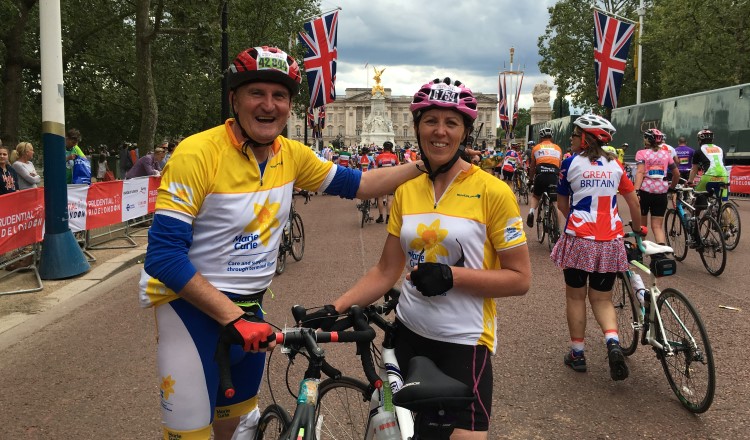 We have been aware for many years of the wonderful work that Marie Curie does. My sister in law, Joanna, spent her last days in the Marie Curie Hospice, Liverpool, where she was treated with the utmost dignity and respect.
In the lead up to the event we held two main events to fundraise towards our event target.
The first date was organised by my wife, Jacqui, in early March. She organised an afternoon tea which involved attendees enjoying a glass of prosecco and some cake in return for a donation. Friends and neighbours were invited and a great afternoon was had by all. Many neighbours contributed cakes or a bottle of prosecco. As well as raising £420 there was a wonderful atmosphere with people sharing their own experiences of how Marie Curie had supported their families.
Then it was my turn. On 16 July we organised a curry night at our house, in return for some 'scouse', a local stew or bowl of curry, and a glass of wine or beer. People were asked to make a donation to Marie Curie. We had a wonderful night and for the first time in several weeks the weather was great which meant we could get outside in the garden. Most people brought their own drinks so the evening was lively to say the least. We raised an astonishing £625 and had a brilliant night with friends, neighbours and work colleagues.
Our experience is that people will support Marie Curie because so many of us have had family members and /or friends, who have benefitted from the wonderful support given. Sharing a social occasion like we did, reinforces the importance of the charity as people share their own special memories of loved ones who have been supported. It has been a privilege to be able to participate in the Prudential RideLondon 100 and we were immensely proud to wear our Marie Curie cycling kit. We were encouraged by the overwhelmingly positive comments from the crowd who cheered us on, particularly in the latter stages when our energy levels were challenged.
Thank you
John and Jacqui Carney