Etape Caledonia FAQs
Have a burning question about your upcoming event? These FAQs should cover everything you need to know. If there's something we haven't answered please feel free to get in touch – at team@mariecurie.org.uk or on 0845 052 4184.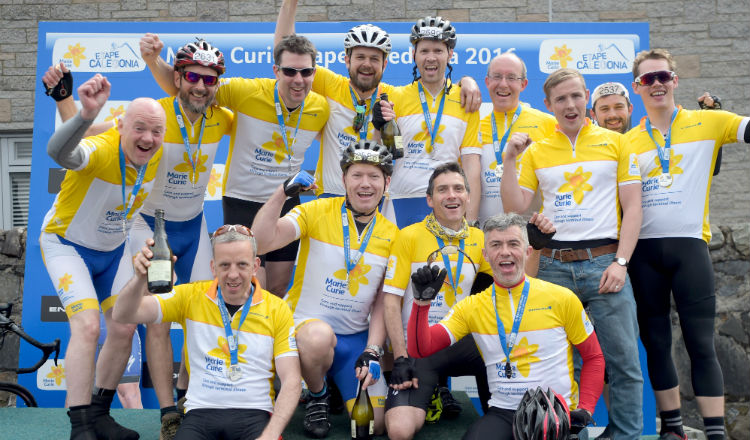 Event date
This sportive is being run on 20 May 2018.
What if I become injured or need to cancel my place?
Please contact our supporter relations team at events@mariecurie.org.uk or on 0845 052 4184.
When will I receive my official race day information?
The race information will be emailed from the event organisers, IMG, around 3 weeks before the event date. This will include all rider information and wave briefings.
When will I receive my race number and timing chip?
You'll need to collect your number and timing chip form registration on the Friday or Saturday before the event from Pitlochry. Registration times will be updated closer to the event date.
During the 2017 event, registration took place on Friday 19 May from 12.00pm to 8.00pm and Saturday 20 May from 9:00am to 8:00pm at marquees in the Event Village. The Event Village is located in the car park next to the Tourist Information Centre on Atholl Road in Pitlochry. You must attend one of the registration sessions in order to take part in the event on Sunday.
What's in my pack?
Event number ― must be displayed on your back during the event
Helmet number ― a sticker which should be affixed to the front of your bike helmet
Bike number ― a sticker which should be affixed to the handlebars of your bike with the number facing forward
Timing chip ― this must be attached to the front wheel of your bike
What happens during registration?
During the registration process, you'll be required to show a form of photo identification in order to receive your event pack. If you're unable to attend registration and wish to send a friend or relative to collect your event pack on your behalf, they must bring a form of photo identification for themselves as well as a signed letter of authorisation from you confirming that they can collect your event pack.
When does the race start?
(Please note these are 2017 timings and may change for 2018)
All waves will feed through the start line in Pitlochry town centre, with the first wave departing at 6.30am.
Where will I finish the race?
When completing your epic 81 journey you will cross the finish line in Pitlochry, just a short walk from the car park where you started.
Where will Marie Curie be on the day?
Marie Curie will be in the event village from Friday until Sunday. Please do drop by to come say hello and pick up some cheering sticks or pompoms. We will also have a cheering point in Aberfeldy. You're welcome to join us at this point to cheer on the cyclists. We will have free massage and a photobooth for all of Team Marie Curie riders
How can I get my hands on some Team Marie Curie Kit?
All kit is collected at the point of registration. Please ensure you bring your proof of fundraising total from your JustGiving page. Please note that there is very little signal in this area, which can make getting live updates difficult.
Where do I go for my team photo?
At approximately 2.30pm there will be a team photo for all Marie Curie riders. All Marie Curie riders who have finished by this time can gather near the podium for a team photo and bubbles!
What will I receive as part of Team Marie Curie?
As part of Team Marie Curie at the Etape Caledonia you'll receive:
access to our Cycling Zone with training plans, tips and advice
regular e-newsletters with fundraising support and advice to help you smash your target
on-the-day support from our dedicated events team
an Endura Marie Curie cycling jersey when you raise £350 and the matching bib shorts when you reach £500
on-hand support from our fundraising team
General event information
What's the event all about?
The 81 mile courses take in some of the most breath-taking views the Scottish Highlands has to offer. The event is a must-do for both cycling enthusiasts and first timers looking to experience the thrill of riding on completely closed roads in an area of outstanding natural beauty.
How far is the event?
The ride is 81 miles.
Is there a minimum speed or time limit?
Yes, the event takes place on closed roads in a traffic free environment for the entire event, subject to participants being able to maintain the minimum average speed of 13mph. If you are slower than this speed, you will be able to finish the ride, but it will be on open road conditions.
What's the age limit?
You must be 18 years or older on event day to take part.
What if I need to update my personal details?
Please contact etapeseries@mariecurie.org.uk or call 0845 052 4184.
What should I do about travel and accommodation?
Please book your accommodation early as Pitlochry is a small town, so it's likely to book up quickly. You can find information on travel as well as local places to stay on the Marie Curie Etape Caledonia website .