Laura's story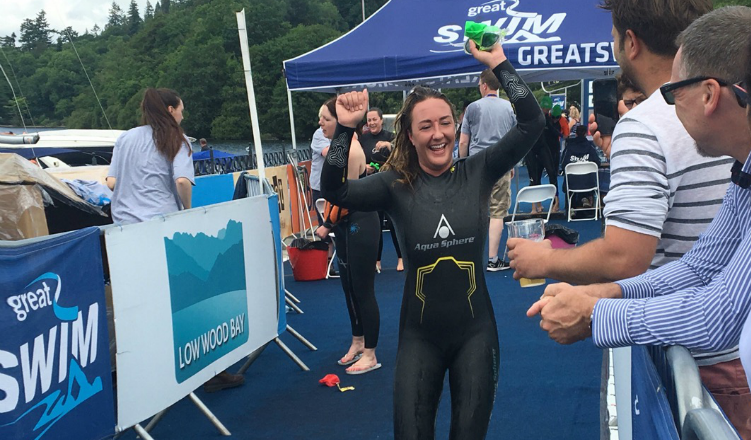 Team Lottie have taken part in a number of events for Marie Curie, and they've managed to raise a fantastic amount of money on numerous occasions. When Team Lottie member, Laura Robson, took to the water for Great North Swim in June 2016, she managed to raise over £1,600. She told us about her experience, and why she wanted to fundraise for Marie Curie.
We lost my beloved Auntie Lottie, 'Charlotte Smith', on 25th Dec 2014, after an 18 month battle with cancer. She was my Mum's sister and such a huge part of my mum's and the whole family's life - this was devastating for all of us, especially on Christmas Day. Auntie Lottie and her family received so much support from Marie Curie after her diagnosis, and in the months leading up to her death. For this reason, it's a charity very close to all our hearts.
The following February, Mum noticed the Swimathon event at our local centre for Marie Curie and with Mum already supporting our Regional Marie Curie campaigns, by way of tea parties and public collecting, we knew we had to get involved. We decided to enter the 5km as I am and always have been a bit of a water baby, and knowing we were swimming for 'TEAM LOTTIE' we wanted the biggest challenge. So in April 2015, Mum (Sylvia), Uncle Bill (Husband), Rachael (Daughter), Louise (Daughter), and me, took to the water and completed the 5km, it was an emotional event, especially given Uncle Bill was 78 at the time and did way beyond the number of lengths we expected him to. We managed to raise £1150 in total which was beyond all our expectations and over a few celebratory gins after we vowed to do something every year for Marie Curie in the name of 'TEAM LOTTIE'…
This brings me to my Great North Swim experience. When I came across the Great North Swim, I thought it was a no brainer to take on Windermere, as I grew up in the Lake District. I had never done an open water swim before, but very much have the mentality that you can do whatever you put your mind to.
I started training in our local pool and actually took part in the Swimathon 5km in March 2016 as a training exercise and a bit of a confidence booster. I figured if I could do the 5km (200 lengths) the open water 2 mile (~125 lengths) should be a doddle!
I completed the 5km Swimathon in 1hr 52, so this gave me an idea of what time I should be aiming for in the open water. I continued to train in our local pool increasing lengths each week. I was so excited by this point and using social media, the fantastic fundraising tool that it is, the donations were flying in from family, friends and even strangers. I was going to take on Windermere without actually taking a dip in open water but as the donations kept coming and the date kept looming closer, the excitement started turning into nerves. I found an awesome wakeboarding club who were holding open water swimming sessions on a Thursday afternoon and Sunday morning from 7.30am.
My first session was a huge shock, as it was freezing! I was more daunted than I thought I would be by the murky waters, but each session gave me more confidence. It really helps to have the support of your family. Mum was a huge encouragement and would come to every training session with me - I feel strongly that doing something like this contributes greatly in dealing with the grief of a loved one.
The day came and Team Lottie headed up to Windermere and the day was just fantastic! I met so many people who were swimming for Marie Curie and there was such a buzz around the lake. I completed the swim in 1hr 20 which was on target for what I'd hoped and as managed to raise an outstanding £1,632, which still now brings such a big lump to my throat.